Foods high in sugar and saturated fat can spur inflammation. "They cause overactivity in the immune system, which can lead to joint pain, fatigue, and damage to the blood vessels," says Scott Zashin, MD, clinical professor at the University of Texas Southwestern Medical Center in Dallas.
Foods that combat inflammation:
Tomatoes, Olive oil, Beets, Green leafy vegetables, such as spinach, kale, and collards
Nuts like almonds and walnuts
Fatty fish like salmon, mackerel, tuna, and sardines
Fruits such as strawberries, blueberries, cherries, and oranges
Omega-3 fatty acids, such as fish or fish oil supplements and walnuts.
Whole grains such as brown rice and bulgur wheat.
Lean protein sources such as chicken
Need to cut down foods like refined carbohydrates such as pasta and white rice, red meat and full-fat dairy foods.
Today's Mudakkathan Keerai Soup, is prepared with Balloon vein, known as Mudakathan Keerai. It is quite popular in Tamil Nadu and is cooked in various ways like soup, dosai, thooku etc. For day one, I made a soup that PJ had shared.
Since the time I decided I will be making this, I have been asking for this greens. I kept buying this every week and never came around making it. Finally I made this last Sunday and rest I will be making the other dishes. The taste really needs some adaptation and hits you quite hard for the first time.

Mudakathan Keerai Soup
Ingredients Needed:
Water – 2 cups
Balloon vein leaves – a handful
Balloon vein stalks, tender – a few, chopped
Garlic – 2 cloves
Cumin seeds – 1/2 tsp
Whole Peppercorns – 1/2 tsp
Asafotida powder / Hing – a large pinch
Salt to taste
How to mak the soup
Heat water in a pan and add the garlic, peppercorns, cumin seeds and bring to boil. Add the tender stalks and leaves and simmer for 10 minutes.
Add the asafoetida powder and remove from heat. Strain and add salt.
Serve hot / warm.
Check out the Blogging Marathon page for the other Blogging Marathoners doing this BM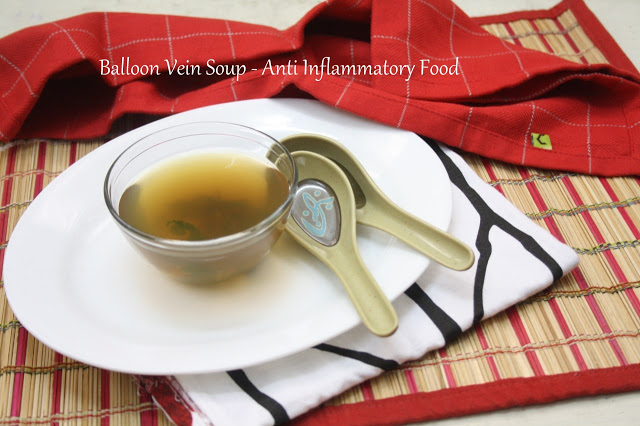 Mudakathan Keerai Soup ~ Anti Inflammatory Food