Every time I pick up a packet of these Alasandallu now, from the super market, I remember those days, as a child, I used to wander in the pantry of my granny and slide my fingers into those silky seeds! Wonder how these delicate dals give out so much taste. I was so happy knowing that my twins loved munching on these. These days you can't escape their clinches with anything. Anything in your hand and they want a bite. So imagine, we made these early in the morning and by the time I could take pictures, Peddu was after me to give him a bite. And how he enjoyed it! The sight was so very pretty. I am so happy that unlike Konda, I could get the twins eat. When I feed tomato ketchup to Peddu, he simple loves it. His face lilts up with every sip of it. So the spot of tomato sauce you see in the plate, it wasn't there after these shots! And then he wanted to eat the vadas. So I had to give him. I was wondering how he will take it, but he seem to love every bite, because he wanted more. Since it was 7.30 in the morning, I didn't want to give him any more.Wondering why we made vadas so early in the morning? For one thing, our camera has given up on me and another, I guess I finally got everybody at home, hooked to this blog!
Since we use the dried ones, we soaked them overnight I don't remember Amma making these vadas with fresh ones, we normally make kura with the fresh peas. Take a big vessel and wash the dal once and then soak it with water over covering it. Let it soak overnight.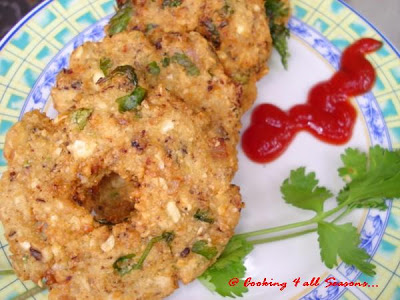 Soaking Time : Overnight or min 7 hrs
Preparation time 10 mins
Cooking Time : 5 - 7 mins for each batch
Ingredients Needed:
Alasandallu / Black Eyed Peas - 1 cup
Salt to taste
Onions - 1 medium, finely chopped
Green Chillies - 2
Red chillies - 1
Coriander leaves - 1/2 cup, finely chopped
Curry leaves few
Ginger - 1" (opt)
Oil for deep frying.
Method to prepare:
Wash the soaked black-eyed peas well before draining them on a sieve. These should not have water when you are grinding.
In a mixer or food processor, take the black eye peas, ginger, salt and green chillies into coarse batter, without adding water. We can use just the green chilies or you can add both green and the red chillies too. When you add the red chillies, its will be interesting to find red spots inside the vadas.
Once the dal is ground well, remove to a bowl and mix in the onions, coriander, curry leaves. . The batter must be solid, and if you press down or pat it down, it must hold the shape without running to the edges. So this needs to be ground without adding water while grinding the peas.
Heat a kadai with oil for frying the vadas. Vada moulds can be made using our hands, wet cloth or plastic sheet. Or even banana leaf. When you get the hang of making vadas, using your left hand is very convenient. Once you have washed your hands, take small amount of batter in a ball shape, put that ball on your left palm. Gently with your right hand, flatten it lightly and make a hole in the middle. You will be able to get the hole in the middle, if the batter is not runny. Removing the vada will be easy if your left palm is little wet before placing the ball on the palm. Drop gently into hot oil
Depending on the size of your pan, deep fry the vadas in batches. When it turns light brown, turn them to the other side and cook until they are golden-brown on both sides. Takes app.. 5 to 7 minutes, each batch.
I served these with Tomato Sauce, but Athamma was so upset that we didn't have the mutton pulusu next to it. And wanted to me make sure, I mention that this goes excellent with that as side!