Bengali Dhakai Paratha Nasta Thali has the flaky Dhakai Porota, the traditional Bengali Paratha. These deep fried pooris are served with Cholar Dal Alu Diye, to complete the brunch for the sweet tooth with Misthti Bonde.
I made this Nasta Platter wanting to showcase one of the most famous Bengali Street Food, the flaky layered puffed bread from the streets of bengal, the Dhakai Paratha. I adapted mine from this site and even got in touch with the blogger to clarify few doubts.
Since this poori deserves a special post, I planned it for the mega marathon. As it must be obvious, I love Indian Flatbreads and pooris surely top the list. If there has been one dish that I can proudly claim as expert, it would surely be poori kneading and making.
We pride on our pooris being non greasy and delicious which always puffs. Irony is Chinnu who loves pooris, doesn't like it puffed up! Anyway, it was only natural that I try out all the famous and forgotten pooris from different states. My pursuit was to find out long forgotten and traditionally followed recipes and not in vogue right now.
On such an experiment, I set out to make these Dhakai Porota. By March, my platters and simple thalis were ready. I still had many to complete by March still. To beat the monotony, I mixed up the themes and made the thalis.
By March end, I still had loads of thalis to make and the months that followed with us not doing anything in April, I planned on making these. I seriously don't know if I would have managed by March, at least not with this relaxed mind frame.
There were days when I was only making Mega BM posts for breakfast, lunch and dinner. I tried my best to see if I could combine the side dishes. However, dishes like these pooris needed a specific side dish. I made this for lunch and didn't have a fall back side dish too.
Planning the Bengali Nasta Thali dishes
Bengalis are known for their sweet tooth and all their meals are accompanied with sweets. I initially planned on making instant Jalebi when I read it is made. Later I ended up making the Sweet Boondi, which was different from what I have already shared.
I read that these Dhakai Porota pairs best with Alu diye Cholar Dal, or even with Alur Torkari with Chana Dal. The meal is complete with Komola Bhog or Sandesh. However, if you are making it for your Sunday breakfast, Sweet Boondi is a must.
During this lock down period, my kids caught the video making bug. Each were vying to take video of whatever I was making. Konda caught me making this poori at the rolling out stage and insisted on making a video. I too agreed as this video making will surely help people. Even with the video, I had problem understanding certain steps, and I made sure the instructions are written clear.
Konda created videos for all the dishes and it was a wonderful experience in the whole madness. I know I don't have a kitchen counter space neat enough for the video and I cringe each time I see how messy the whole space looks. My whole kitchen has lights on all four walls, so there is never a dearth for lighting, only counter space!
Before we go into details of making this thali, a small intro to the culinary experience the blogger shared. History states this Dhakai paratha dates back to the undivided Bengal, now partitioned into West Bengal and Bangladesh.
This dish is almost fading away and not easily available now. If one still wants to find this dish and enjoy, one can get it from the old parts of north Kolkata and streets of Dhaka. So some years back, when it was still easily sold and available, this was the Sunday brunch and can imagine how it must be waking up this delicious platter!
What a beautiful history and I totally enjoyed making these flaky layered Bengali Dhakai Paratha for this thali.
Bengali Dhakai Paratha Nasta Thali
Bengali Dhakai Paratha
Cholar Dal Alu Diye
Bengali Style Misthti Bonde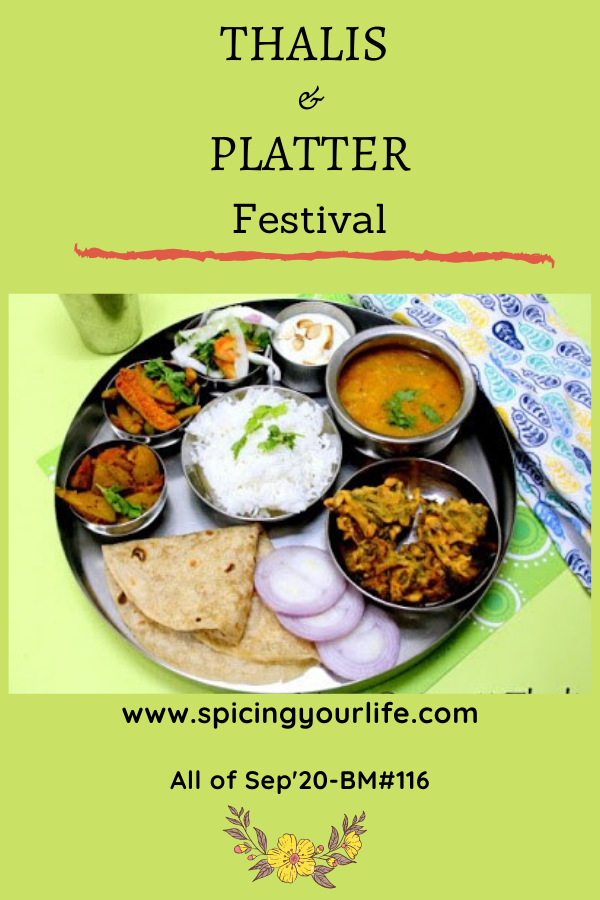 Check out the Blogging Marathon page for the other Blogging Marathoners doing BM#116
You are invited to the Inlinkz link party!