This Chicken Non Veg Thali Menu List 1 features Chicken Donna Biryani along with other dishes to make a complete Thali for your Weekend Feast. South Indian Non Veg Thali has dishes showcasing different non veg dishes.
We are starting our BM#116, Week 2 where I will be featuring Thalis featuring Regional Cuisines, highlighting the Non Veg thalis that get done during the Weekend at home. My kids enjoy their Biryanis and every week we do end up making Chicken Biryani.
We also cook Mutton and seafood at times and for the Thali & Platter Theme, I decided I would showcase the dishes we end up making. I must say that the thalis made for this theme was a hit with my kids and they enjoyed it much.
However, when we talk about a thali, Non Veg Thali mostly doesn't have that many dishes as you might do with a Vegetarian Thali. Most times, when we make Biryanis, we make the gravy or if required an onion raita. Otherwise, kids are fine with just Biryani for their Meals.
What is a Chicken Thali?
Chicken Thali will typically have a rice biryani featuring chicken, with a gravy dish with chicken, some starters, raita. Dal, Rasam, Steamed Rice along with Curds are also prepared.
When we plan for a party non veg thali, of course, we do make rice, gravy, roast, sweet and sometimes we miss the types as well like Mutton Roast, Fish Fry along with Chicken Biryani etc. There have been times we have done this at home for weekend as well. You can check this Non Veg Thali that has different dishes prepared for all
When parents used to host parties, the number of dishes were more that included a mix of mutton, chicken, eggs, and fish as well. We have reduced our hosting as we no longer are able to cook that many dishes and find that even our friends have given up eating that many varieties.
You can check the different Biryanis already shared on this site!
Somehow my kids have not caught up with having different dishes for a meal. They are one meal people and we really haven't forced them to have everything. So at the most make a gravy or a semi roast.
The thalis that I will be showing will include non veg dishes along with the veg dishes that we make. Today's Thali features Chicken Donne Biryani.
I wasn't able to go very specific to regional states as we cook both Andhra and Tamil Nadu style, and we no longer can separately the methods in our cooking.
The dishes feature typical Andhra Pappu, starters and gravy that's made for a special weekend meal. Linking to the dishes already shared. Will update once I post the versions shared on this day.
Chicken Non Veg Thali Menu List 1
Chicken Donne Biryani
Andhra Style Chicken Gravy
Endu Mirapakaya Pappu
Steamed Rice
Masala Vada
Uddi Bonda
Perugu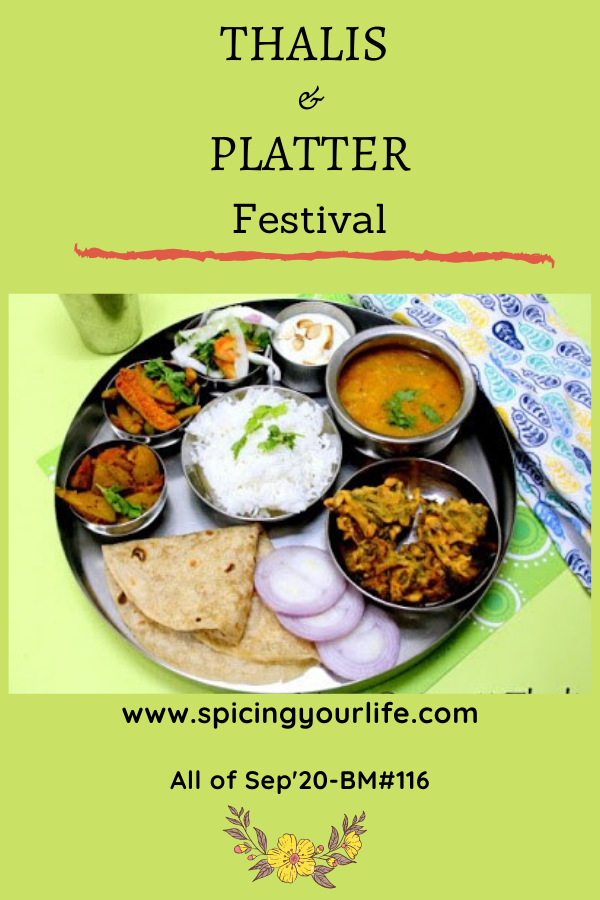 Check out the Blogging Marathon page for the other Blogging Marathoners doing BM#116
You are invited to the Inlinkz link party!