Learn how to peel the garlic, and pearl onions in a Microwave. It hardly takes about 20 to 30 secs of time.
Pearl Onions, small onions, or Shallots are used widely in Tamil Nadu cuisine. Peeling the skin is a tough task. To overcome, you can simply warm it up in the microwave for a quick job.
I met my friends over this weekend and it has been one memorable evening. We are meeting some of them after 20 years. We have been working towards this day for over six months. All of us have been looking forward to this day arriving. It was a great evening and we didn't realize the time passing by. Sunday was spent just recollecting the turns of events.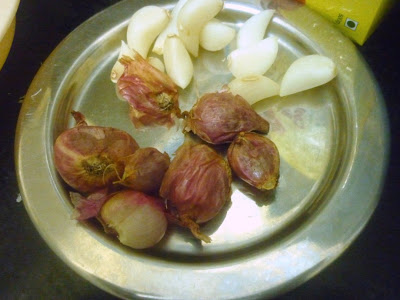 Simple and useful tips to peel garlic and small onions (shallots):
Peeling a large quantity of garlic for grinding the paste is painful. For times like this microwave comes in handy. Same with Pearl Onions or Shallots, where it is a tedious task to peel the outer skin.
Finally cooking various dishes for a Thali requires more garlic and shallots in our cuisine. At times like this, microwave garlic peeling comes in handy.
There is really not much, just microwave each for 20 or 30 secs, you will hear the garlic outer skin bursting out.
Allow it to stand for few seconds, you will notice the skin coming out very well.
The pearl onions almost come out as cooked. Reduce the timing if you want it firm.
If you are interested in knowing about other basic things in Indian Cooking read below:
For other cooking basics, you can read and learn.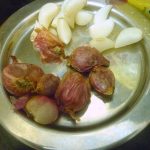 Print
How to peel Garlic and Pearl Onions in Microwave
Learn how to peel garlic and Shallots in Microwave, which hardly takes about 20 to 30 secs of time. Pearl Onions or Shallots are used widely and peeling the skin is a tough task. So warming up in microwave makes it an easy job.
Materials
1

cup

Garlic

1

cup

Small Onions
Instructions
How to peel Garlic and Pearl Onions in Microwave
Simply put the garlic and small onions and microwave for 20 to 30 secs.

The outer skin peels out easily and you can peel and wash it before using it in your cooking.

Microwave cooking is always checking and cooking, so you will have to start with 10 sec when you are handling lesser quantity of ingredients.