I made this Carrot Kofta Curry to be paired with
Subz Pulao.
It was quite a combo, though I felt it would have been much better with Naans. I felt the pulao was spicy on its own and would be fine with a raitha. This was the first time I was ever making a Koftas with Carrot and I was wondering how a kofta would hold up its shape in the microwave. I was pleasantly surprised that the shape was retained.
Just two more days to go for the school to close for the boys and they are so restless. But imagine my plight when Konda's and the twin's common holiday is only for May. Come June I will again have to plan for lunch boxes. It becomes quite a task getting them to agree to something they will want to eat. So when I made this Subz pulao, one wanted only the beans, while the other carrot. So it was a lunch that was exclusively for the elders at home.
This was another recipe I adapted from the Microwave recipe book. The recipe called for Raisins to be stuffed in the Koftas but I avoided it completely. Though later I realized that might have balanced the spice in the koftas.
The book has many such pretty looking gravies, that I am planning to make. so look out!
Step by Step pictures.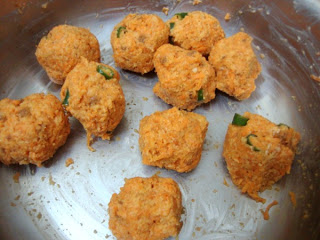 Microwave Carrot Kofta Curry RecipeIngredients Needed
For the gravy
Onion - 1 medium, puree
Tomato - 2 medium, puree
Chili powder - 1 tsp
Coriander powder - 1 tsp
Turmeric powder - a pinch
Garam masala - 1 tsp
Salt to taste
Oil - 2 tsp
Coriander leaves for garnish
For koftas:
Carrots - 2 medium, grated
Bread slices - 2 (churned in mixer)
Green Chili, chopped - 1
Ginger paste - 1 tsp
Salt to taste
Garam masala - 1/2 tsp
Yogurt - 1 tbsp
Method to prepare:
For the gravy:
Mix onion paste with oil, turmeric powder, garam masla and red chilli powder in a microwave safe bowl. Microwave for 5 minutes.
Add the tomato puree, mix and microwave for 5 more minutes.
Add 1 cup of water, microwave for 6 more minutes and keep aside.
For the koftas:
Grate Carrots. Then mix carrots with all the ingredients for koftas.
Mix well. Make round balls. Place them on a greased micro safe plate, microwave for 3 minutes.
At the time of serving, place koftas in a serving dish pour the curry over them and microwave for two minutes and serve warm.
Notes:
I made small koftas and got about 12 of them.
The original recipe calls for Chaat masala and Raisins to be added to the koftas but I didn't add them.
If you want to add the raisins, stuff them in the middle when you make the balls.
Recipe
Microwave Carrot Kofta Curry Recipe | Step By Step Recipe