Let me say I have been preoccupied with something since yesterday! And like as with everybody else, I am more interested in finishing that job before I could think of a blog post right now. But I really didn't want to miss out on a post for various reasons.
First being, few dear friends have said they log on to read me the first thing they get connected and when they don't see anything new, they get disappointed. Now I can't disappoint friends, can I? And second being, I can't really be away from posting, even if it's a simple chutney that I am going to blog about. I won't say I am so addicted, maybe a wee bit.
Anyway, Amma said a couple of days back, that Peddu can now repeat till 'F' and she especially loves the way he says F. Now I wanted to see how he says. And I really had a gala time laughing at the way he twists his tongue and says "Fiii", not sure if he designed the word himself. Thinking of which, I remember the time this weekend when I was asking him to put off the feeding bottle he had. He has this habit of sipping his bottle when he feels sleepy.
However much we tried, we couldn't get him to give up the habit. I told him that his teeth will all come out protruded. He didn't bother, then something prompted me to say, 'Peddu if you have protruding teeth, you will not have any girlfriend.' Now that had him throwing the bottle down. Well, I am sure he won't have understood what I said, but his action got me rolling down laughing!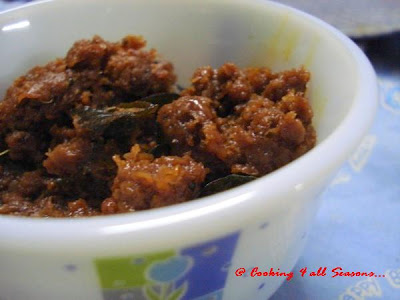 Coming to this simple Chutney or rather a pickle, as ingredients used are normally used for a pickle, it's more of a touch and feel one, than a typical recipe with correct proportion. Though in all my recipes, I only give app. of what's gone in, cooking after all is about your senses. This one is more on the abstract, where a particular item was added after tasting. So do use your judgment!
Ingredients Needed:
Grated Cabbage - 1 cup
Fenugreek / Methi Powder - 1 tsp
Mustard Powder - 1 - 2 tsp
Chili powder - 1 tsp
Salt to taste
Tamarind - marble size
Tempering
Red chillis - 3
Curry leaves few
Mustard Seeds + Urad dal - 1/4 tsp
Oil - 3 tsp


Method to prepare:
Wash and pat dry the cabbage leaves. Then chop them finely.
Heat a pan with 1 tsp of oil, simmer and fry the cabbage well. It should be really dry but not burnt. Then add the methi powder and mustard powder. Fry for another 5 mins under sim. Since oil is less, it might tend to get burnt. so take care.
Then finally when it's all fried well, add the chili powder and salt. Adjust all the spices. And allow getting fried for another 2 mins. Then remove and allow it to cool.
Meanwhile, soak the tamarind in water. When the cabbage is cooled, grind the cabbage mix with the soaked tamarind to a coarse mixture. Ensure you don't get it into a paste. You will have to retain the cabbage pieces
When it's done, heat the pan again with the remaining oil. Season with mustard, urad, red chilies, curry leaves. Once they are done, add the cabbage mix. Let it cook in sim for 2 - 3 mins till it's done.
Remove and store in a dry bottle or vessel. This stayed good for 4-5 days.
Enjoy with chapati or along with Rice and dal!
Cabbage Chutney ~ call it Cabbage Pickle if you want!