Navratri Naivedyam for 9 days, is a Navratri Prasadam list for nine days. This compiled list of Navaratri Naivedyam or Navratri Special Dishes for 9 days, with more than 100 plus Navratri Vrat Recipes, can help you can plan your pooja easily with these Navratri Fasting Recipes!
We dedicate the Navratri festival to the worship of the Hindu deity Shakti. The word Navaratri literally means nine nights in Sanskrit, Nava meaning nine, and Ratri meaning nights. We worship nine forms of Shakti/Devi during these nine nights and ten days. The 10th day is commonly referred to as Vijayadashami or "Dussehra.".
Celebrate your Navratri / Navaratri with the special dishes for the 9 Days Celebration for the Goddess.
This year Navratri begins on Monday, 26 September and ends on Tuesday, 4 October 2022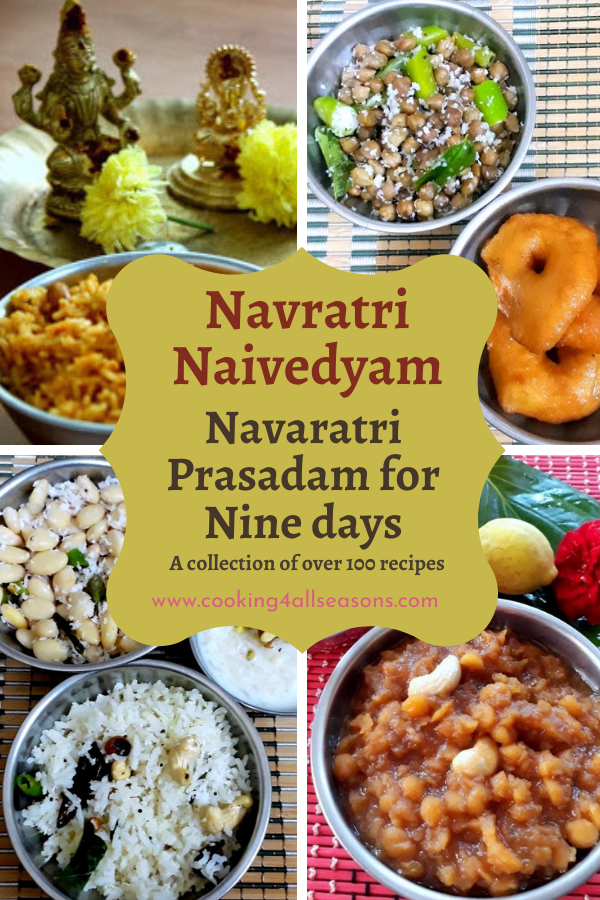 Picture Source: Courtesy Google Image source
The Nine days of Navratri is divided into sets of three days each. We adore three different aspects of the supreme goddess or goddesses.
First three days
For the first three days, the goddess is the spiritual force Durga, also known as Kali. This form of the Goddess destroys all our impurities. During these three days, neivedyam will have to be spicy, sour like Pulihora, Lemon, and Sambar Rice
Second three days
For the second three days, the Mother is the giver of spiritual wealth, Lakshmi. Goddess Lakshmi is the goddess of wealth. She bestows inexhaustible wealth on her devotees. So during these three days, we make neivedyam like Sakkarai Pongal, Kesari, and Payasam.
Final three days

In the final set of three days, we worship the goddess of wisdom, Saraswati. For these final three days, neivedyam will be in white colour like Ven Pongal, Thayir Sadam, Sago Payasam.
In order to have all-around success in life, believers seek the blessings of all three aspects of the divine femininity, hence the nine nights of worship.
For more Navaratri Neivedhyam, you can make these prasadams.
Navaratri Naivedyam / Navratri Special Dishes for 9 Days