For the sixth day of Navratri we have to make a payasam. I decided to make something with Jaggary and wheat. I had already made the versions I knew and I wasn't exactly having enough time to think of something new on those lines. Since I have already had Semiya Payasam and a variety of Rava Payasam, I thought I must combine these two to get another version in place.
If only I got my thinking ahead of time and did this the right way. I knew Rava soaks up milk and the semiya/ Vermicelli doesn't get cooked up properly if sugar is added before. Well, it was a tricky situation and I was running out of time. So I did the easiest possible way. Sad that it ended up soaking up all the milk I added! Anyway here is a delicious Payasam still, if only you take care to add the things at the right time!

After a hiatus of three weeks, I am back to work and I didn't want either thing to be undone because of this. It's a holiday for kids and they were up early, on regular days you would find us having a tough time waking up the boys. But on holidays, they are up as early as they can. They even had their games all planned up and were up to it.
Though I planned on a different prasadam, I ended up making this as I couldn't find the Wheat Rava that I was supposed to use. Anyway, I knew this payasam would turn out great as well. My only concern was not finding the right cookery to display this. Imagine all white plates, bowls, and white dishes! Gosh, I was going crazy thinking about what contrast I should put in place, but none came to mind. So it's white you are going to see it today.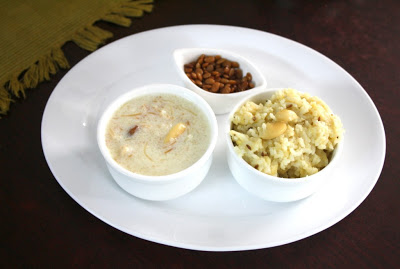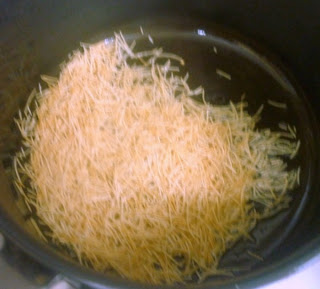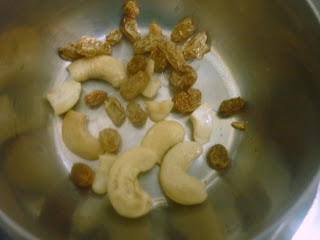 Rava Semiya Payasam
Ingredients Needed:
Rava - 1/2 cup
Semiya - 1/2 cup
Sugar - 1 cup
Milk - 4 cups
Water - 2 cups
Condensed Milk - 2 tsp
For Garnish
Roasted Cashews and Raisins
Ghee - 1 tsp
How to make the Payasam
Heat a nonstick pan with ghee, roast the nuts, and keep it aside.
Roast the semiya and then rava. Add milk and bring to boil. Simmer for 5 - 7 mins. Add water and bring to boil.
When rava and semiya are cooked, add sugar and bring to boil. Finally, add the roasted nuts.
Notes:
If you add Rava much later, it won't soak up all the milk. If this gets thicken, add milk microwave and serve.
Else you can serve as thick pudding.


Kollu Sundal / Horse Gram Sundal
Rava Semiya Payasam, Kollu Sundal ~ Navratri Special Dishes