For the second day under BM#48, Chaats, I have my most favorite Chats, the Katori Chat. Chats are those dishes that one can literally adapt to their taste and methods. The first time I tasted these were during a cooking competition that I was judging. The ladies had come out with such interesting dishes and some innovative dishes.
The Katori Chat that I tasted that day was so sinful with loads of aloo and chat ingredients added. I have been planning on making this forever! As with all chats, the chutneys are a must. I made a green chutney and a meethi chutney along with boondi and sev for the crunch.
While Konda and Peddu enjoyed as such, Chinnu enjoyed the crispy outer shell with sev and boondi.
Well as expected there was much demands for this to be repeated again. The outer shell takes some time to get cooked, while once made it's such a breeze.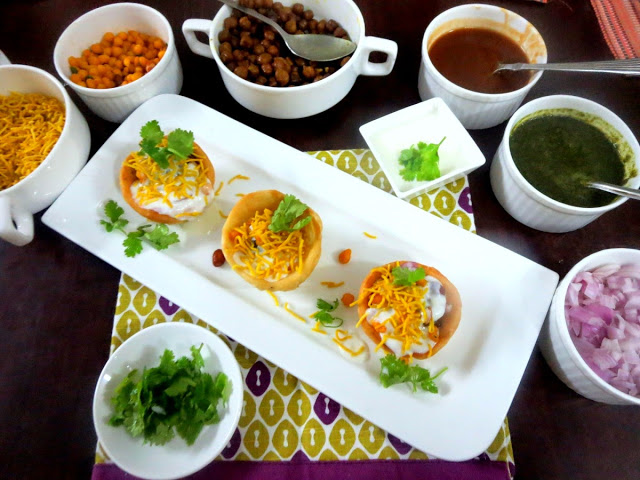 Katori Chat with Curried Kala Chana
Ingredients Needed:
For the Katoris
All purpose flour/ Maida - 1 and 1/2 cup
Salt to taste
Ajwain - 1 tsp
Cold butter - 1 tbsp
Oil for deep frying
Small Katoris for the shape
How to make the Katoris
In a wide bowl, take the flour, salt, ajwain and cold butter. Crumble well. Add water slowly and knead to a stiff dough.
Dust well and roll out thin. Using a katori, press out the rounds. Grease the katoris that you want shape on. Press the cut circles on the katoris, Prick with fork all over the katoris, so that it doesn't puff up.
Heat a kadai with oil, gently drop the katoris into the hot oil. Cook on low flame till the katoris turn crispy. Remove on kitchen towels, Then again fry for a second time, so that the katoris become crispy.
Drain and store in an air container.
For the Stuffing
Brown Chana - 1 cup
Salt to taste
Red Chili powder
Roasted Cumin powder
Turmeric powder
Oil
Heat a pan with oil, add the boiled chana, all the spices, cook till all the spices are incorporated to the channa.
For Green chutney
Coriander leaves handful
Mint leaves handful
Green Chillies
Lemon Juice
Salt to taste
Grind all the ingredients together, add lemon juice.
For assembling the Katori Chat
Fried Katoris
Green Chutney
Sweet Chutney
Spiced Kala Chana
Onions
Sweet Curds
Coriander leaves
Sev
Boondi
Assemble the fried katoris on a plate, add the spiced chana, onions, chutneys, top with sev and boondi, serve right away
Check out the Blogging Marathon page for the other Blogging Marathoners doing BM# 48
How to make Katori Chat ~ Step by Step
You can also check out this Katori Chat for a new recipe.