Being from South of India, Sambar is almost a staple for us at home. Though in Andhra sambhar is not supposed to be a native dish. Yet these days it's quite common to hear it being prepared frequently. But when you talk about Tamil Nadu and the way Sambar is made, well it's inevitable that there are many ways to make this simple dish.
Even though I make Sambar almost twice or thrice at times a week, I was still tempted to learn the way this sambar was made by my colleague's mom. They hail from Tirunelveli, and this is the way they make their sambar. I am sure even this might vary from other families from the same city. Tirunelveli is famous for its Tirunelveli Halwa. I was happy knowing another delicacy from the place.
When I finally made it at home, I did forget some and by practice added some. Like my friend said they normally don't add tomatoes. But then I got it confirmed from her mom that tomato can be added. Well it's all what's available at hand finally I guess. Still this had lots of different steps involved. It tasted great with steaming Rice. I took this for my lunch and had fun.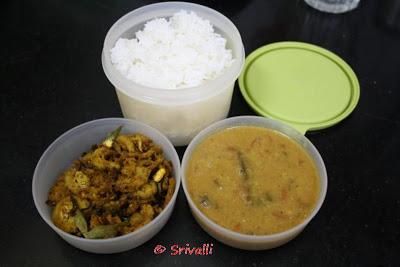 Step By Step Pictures
Heat a pan with oil, saute shallot onions, Brinjal pieces, Green chilies till they turn light brown.
Add chopped tomatoes
In another pan, add 1 tsp oil, roast coconut, cumin seeds, shallot onions and 1/2 tsp bengal gram
Allow it to cool.
Meanwhile, stir the mashed tomatoes, add red chili powder, Coriander powder.
Next goes the tamarind extract and salt to taste
Bring it to boil
Add cooked toor dal to the pan, add required amount of water.
Make a smooth paste with the roasted ingredients. Add to the boiling dal.
Finally season it with curry leaves, methi seeds, Hing, Urad dal and mustard seeds.
Ingredients Needed:
Toor Dal, cooked - 1 cup
Tamarind extract - 2 tbsp (adjust to taste)
Shallot onions - 4
Tomato - 1 medium
Green chilies - 1 medium
Red chili powder - 1 tsp
Coriander powder - 1 tsp
Turmeric powder a pinch
Brinjal - 3 medium
Oil - 2 tsp
Salt to taste
Water - 2 cups
For the Ground paste
Coconut - 2 tbsp
Cumin Seeds - 1/2 tsp
Shallot Onions - 3
For Seasoning
Oil - 1 tsp
Mustard Seeds - 1/2 tsp
Urad dal - 1/2 tsp
Fenugreek Seeds - 1/4 tsp
Asofoetida / Hing - a pinch
Curry leaves - 4- 5
Method to prepare:
Pressure cook Toor dal with twice its amount of water til soft. Keep it aside.
In a bowl soak Tamarind and extract the pulp from it. If you want you can mix the red chili powder, coriander powder and salt in this water and keep it aside. I normally prefer to add to the dal directly.
To make the ground paste:
In a separate pan, add 1 tsp oil, roast chopped Coconut, Cumin seeds, Small Onions and little Bengal gram. Allow it to Cool and grind to a smooth paste using water. This can be added raw but I wanted the roasted aroma of the coconut.
To make the Sambar:
In a pan, add shallot onions, brinjal pieces and green chilies. Sauté well.
Then add chopped tomatoes and fry till it's soft. Then add the Red chili powder, Coriander powder, tamarind extract and salt.
Simmer for 5 mins for everything to get cooked well. Then add the cooked dal, bring to boil.
Then add the ground paste required water to get required consistency.
Seasoning the Dal
Finally season by heat a pan with oil, add a pinch of hing, Curry leaves, methi seeds, Urad dal, mustard seeds. Pour this over the boiling dal.
Enjoy with Steaming Rice and vegetables.
Notes:
Different vegetables like Radish, Drumstick can be used.
You can make instant spice powder by roasting Dry Red chili, Coriander Seeds and Bengal Gram and powdering it to be added directly.
Tomatoes can be avoided if you want.
Check out other Rasam, Sambar, Kuzhambu
How to make Sambar - Tirunelveli Style | Step by Step Recipe | Lunch Box Series : LBS#61