The morning was quite chill and it only had me snuggling against the twins again. I was already late and I had to get things ready for Konda. She was leaving early for school as she is participating in a program, where she is the angel. Amma bought her a grown more than a year back, which looks more like a bridal dress, but if we remove the headgear, it can look like an angel dress.
Which lead Konda to complain that the wings were not there to make it a perfect angel get up. Whoever said angels should have wings! I told my little one that all angels need not have wings, they come in different forms. And to top it all, her teacher asked her to get a magic wand and a crown.
Seriously, I wouldn't know where all these things might be sold. When we had visited Calcutta, she had got a crown, two wands. Both the wands had long disappeared. This crown somehow stood the test of time. And that got broken just yesterday when she had it in her bag. So we spent some time late at night trying to stick with glue. Konda went to bed only after she knew, her crown was mended. And she was up and ready in a short time and went early to school
The climate was still chill when I started and was beautiful. The city looks like a hill station in the aftermath of a shower! Imagine riding a bike with the cool breeze hitting your face, and all you want is to feel the air! With the season being filled with the flame of the forest, blooming all over the city, this is the best time to visit! Rain kissed leaves, slowly sway and dewdrops fall down as you get under them! Its heaven to travel during this time. Well the thoughts of work or other things, are the last things on mind!
Coming back to the gravy that I prepare lasted night, it's a new one that uses raw banana mashed and deep-fried. It was so yummy, that even my twins eat it as such. We tried to save some for the gravy!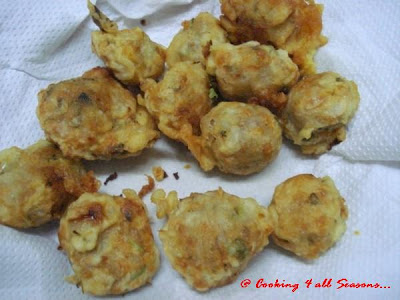 Ingredients Needed:
For the Koftas
Raw Banana - 1
Corn Flour - 1 tbsp
Gram Flour / Besan- 1 tbsp
Ginger Garlic paste - 1/2
Cumin Powder - 1/2 tsp
Chili powder - 1/2 tsp
Salt to taste
All purpose flour/ Maida - 2 tbsp
For the gravy
Onions - 2 medium
Tomatoes - 3 medium
Ginger Garlic paste - 1 tsp
Chilli powder - 1 tsp
Cumin powder - 1 tsp
Cloves - Cinnamon powder - 1/2 tsp
Coriander leaves for garnish
Salt to taste
Oil - 2 tbsp
Cream - 2 tbsp (I used milk)
Oil for deep frying - 3 tbsp
Method to prepare:
For Koftas
Wash and trim the banana. Pressure cook for 1 whistle, or till it's soft. Peel the skin and using a masher, mash it well. Don't run in a mixer to make it a paste. It won't taste that well. You need to have a little bit of pieces of banana in the koftas.
Take the mashed banana in a bowl, mix in the chili powder, cumin powder, salt, ginger-garlic paste. Using your hands, mix them well together. Then slowly add the corn flour and Gram flour. don't add any water. With the water content that's present in the banana, there is no need for adding water and more over, it won't absorb so much oil when you deep fry it. Divide the dough into small equal sized balls.
Make a lump free batter of Maida with little water and salt. Heat the oil and let it get really hot, before you could dip each ball into the maida batter and deep fry. Let it get cooked on both sides and drain on a kitchen towel.
If you want to avoid the deep frying, you can even shallow fry these in the muffin pan or if you have
a Kulipaniyaram
pan with you. You can drop a tsp of oil in each groove and place the balls and shallow fry these. I haven't tried baking, but that also should be equally good.
For the Gravy:
Make a paste of Onions, Tomatoes separately. Heat a pan with oil, cook the onion paste till the raw smell leaves, then add the ginger garlic paste.Cook for 2 mins. Then add the tomato puree. Simmer and cook it covered for 5 - 10 mins. Actually, I might've used less oil than 2 tbsp, but I added little by little so I think it can come up to 2 tbsp. Just check to make sure it doesn't get burnt.
Then add the dry spices. Mix well and simmer again. Adjust salt and spices based on your taste. Finally add the milk In most cases, when the cream is called, I replace it with 1/2 glass of milk. It mostly works out well. If you want more taste, add two drops of butter or ghee. While adding the milk, have the flame in sim, else it might get curdled. Then once its mixed well, slowly add water based on the gravy you want. I added about a 3 quarter of cup. Bring to boil. And simmer till it cooks to a thick gravy. Finally, garnish with coriander leaves.
Add the Koftas to the gravy just before you serve, else it might absorb the gravy and become very soggy.
The best is to make the koftas just before serving so that they are still hot and crunchy when you bite on them while you eat the gravy with Chapati.
I must say, though this is the first time I am cooking banana in gravy, it was really yummy and the recipe is a sure keeper.
Recipe
Plantain or Raw Banana Kofta Curry ~ Curry Mela!