Soya Beans were always something I avoided! Not that I don't like it actually, its more to do with health reasons. I remember eating this when I was about 13 - 14 years, Amma made some dish with it for the first time. Shortly after eating it, I noticed my eyes were red. Dad said maybe these didn't suit me. Well I really don't know if it was these or something else. Those days I had some allergy to certain foods, which to my bliss, never got discovered. And I happily ate everything on earth, except these!
Infact few years back, the soya meat as its called the meal maker, was so popular that it was added to all vegetarian dishes. After turning a pure vegetarian, I somehow could never palate anything in resemble. The rule for me was quite simple, when you decided not to eat something, why even eat something in imitation? I don't like imitations, be it anything for that matter!
So almost many years passed without me trying to try these beans again. Infact it was for a blog event that I ended up trying tofu, of course in my mind, I couldn't replace Paneer with it. That's a different story. But these beans I always kept a safe distance. Finally I had to succumb to the peer pressure! The peer here being my Athamma as she shares the kitchen sometimes. With her finger still recovering, she isn't entering the kitchen. So I have been the reigning king, queen of the kitchen.
But when she was cooking, one fine day she decided she wanted to prepare a dish with the Soya beans. Infact went ahead bought it. Well I couldn't say no right, so just mentioning my rashes, I tasted it quite reluctantly and was happy nothing happened. Seeing that nothing happened proved quite a teaser for her. In the end, this has become a permanent addition to our list.
This rich creamy Soya Bean Kurma we had last week. This isn't exactly the way kurmas are made, but then I am never known to stick on to any particular instructions. I strongly believe recipes are emerged most times, very rarely created! I will surely make a special note of those created ones pa moi!
Soya Beans Kurma
Ingredients Needed
Dried Soya Beans - 1 cup
Onions - 2 medium
Tomatoes - 3 medium
Ginger Garlic paste - 1/2 tsp
Chili powder - 1 tsp
Coriander powder - 1 tsp
Turmeric powder a pinch
Salt to taste
Coconut Milk - 1 cup thick
Cashew Almond powder - 2 tsp
Garam Masala - 1/2 tsp
Oil - 2 tsp
Method to prepare:
Wash and soak soya beans overnight. Wash and pressure cook till soft. Depending on the brand, it might take about 3-4 whistles.
Heat a pan with oil, saute chopped onions till brown. Then add ginger garlic paste. Fry till it gets browned.
Add the chopped tomatoes, salt and turmeric. Simmer and cover for 5 mins. Remove lid and stir again. Cook till the tomatoes are soft and well cooked.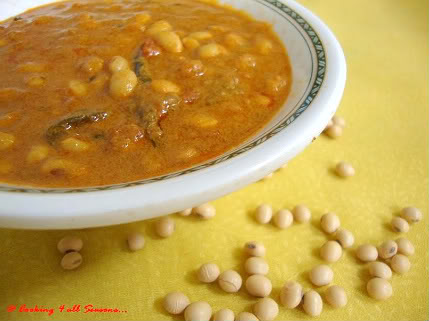 Add in the chili powder, coriander powder and simmer for 10 mins till the oil comes out of the sides.
Pour in the cooked soya beans and combine everything well. Cook in high flame for couple of mins, till the beans are well coated.
Next goes the cashew nuts, almond powder, mix well. Then add in the coconut milk.
Bring it to boil. Then add required water and simmer for 10 mins. When you find that the gravy is thick enough, you can sprinkle the garam masala, garnish with coriander leaves and remove.
The thickness of the gravy depends on what you serve it with. It can be little thin when served with Rice, else thick creamy gravy goes well with Rotis!
Note: Cashew nuts and almond powder can be easily prepared and stored. We get coconut milk from the coconut gratings that we again store. So this dish is pretty quick and gets done fast.