For this week's Cooking with Cookbook Challenge, I have a delicious kootu dish, prepared with Plantain Stem or Vazhai Thandu. The lentil used is the moong dal and as we know, moong dal tastes great in a kootu. Before the blogging days, I don't think I was ever so fond of kootus and likes. However after blogging, the scope of dishes that one gets to know and indulge, increases so much that one is automatically forced to accept it as norm.
So I am very fond of Kootus now and given a chance I might simply want to make these dishes. These kootus are not only versatile, they are good on the tummy and health as well. Being balanced on all requirements in terms of lentil, protein and other essential nutrients, Kootu packs it all fine.
With my new found love, it was only obvious that I search for new recipes with the vegetables. Last week I was supposed to make the
Mor Kuzhambu
with
paruppu Usili
. I was unexpectedly on leave and it was raining. Since the schools were closed because of the heavy rains, Hubby dear decided it was the best time to take the kids for a pending movie. I was left behind, to enjoy a meal that Amma made. Since she made so much of this kootu, I had to ditch the plans of making that combo.
The recipe for this comes from Amma's help. She said she makes kootus with all vegetables in almost the same way. However we found this version of stem with moong dal, so delicious both with rice and rotis.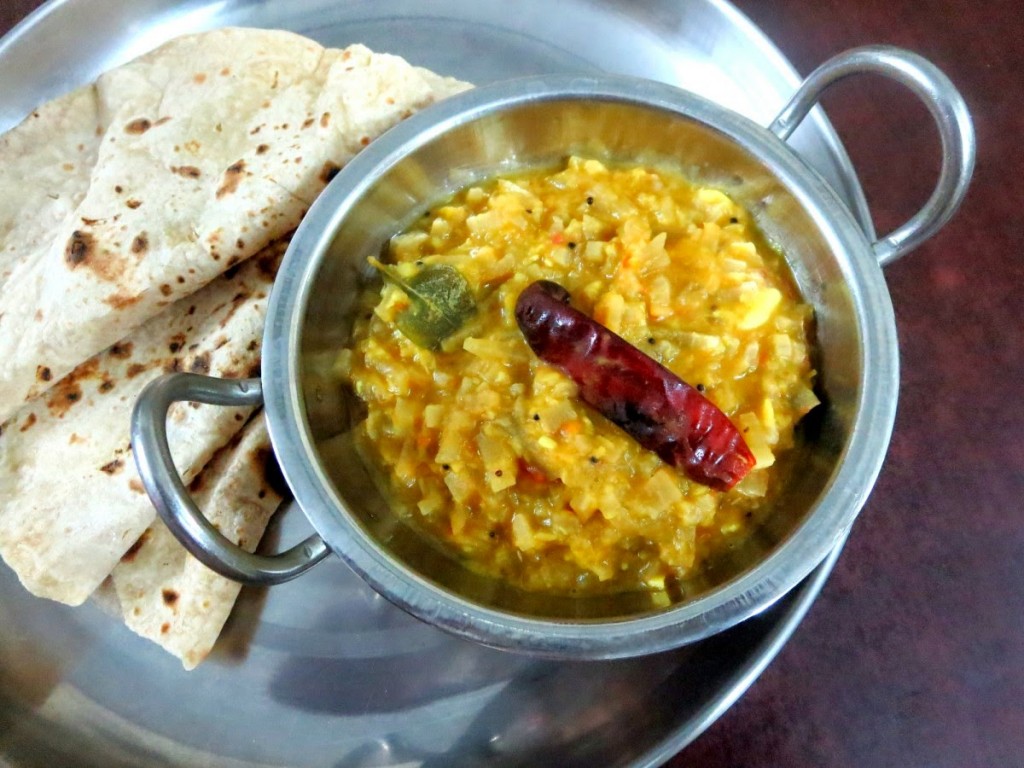 Vallai Thandu Moong Dal Kootu
Ingredients Needed:
Vallai Thandu / Plaintain Stem - 2 cups
Moong Dal - 3/4 cups
Green Chilies - 2 -3
Red chili powder - 1/2 tsp
Salt to taste
Onions - 1/2 small
Tomato - 1 medium
Turmeric powder a pinch
For tempering
Oil - 2 tsp
Mustard Seeds, Urad dal - 1/2 tsp
Curry leaves handful
Red Chilis - 2
How to make the Kootu
Wash and finely chop the stem. Ensure you remove the strings well. This can be soaked in buttermilk if you feel it turns colour.
In a pressure cooker add moong dal, stem pieces, onions, tomatoes, along with green chilies, red chili powder, turmeric powder, salt. Add a cup of water, close the lid and pressure cook for 3 whistles or till done.
Once the pressure is down, remove the lid, heat a pan with oil, tempering with mustard, urad dal, curry leaves and chilis.
Pour this on dal and stem mix. Bring to boil and remove.
This tastes great with rice and rotis.
Vazhai Thandu Kootu | Valaithandu Pasiparupu Kootu | Plantain Stem with Moong Dal