Banarasi Kachori aur Sabzi Thali is a platter showcasing the popular Banarasi Kachori served with Raswale Aloo ki Subzi and Sitaphal subzi.
Banaras ka khana is never complete without tasting these delicious deep fried Indian Pooris served with the very popular Sitaphal or Kaddu ki Subzi. Sitaphal refers to Red Pumpkin, it is also called as Kaddu and is a must on the thalis served with these Kachoris.
When we talk about Kachoris, we have two types of Kachoris, the Kasta Kachori that is laded with fat and is flaky. It is mostly served as a snack and stays good for a week. These flaky snack kachoris are stuffed with dry masala that stays good. The size varies from small balls to almost 6 inch diameter in size.
The other type of Kachoris are same as pooris that are served right away. These pooris are either stuffed or blended with different spices. Pooris are the most loved and sought out Indian Bread.
The third week is going to be Thalis featuring Indian Flatbreads on both the sites. Since I have to have a sub clause for everything, on C4AS it is going to be regional special from different Indian States and on SYL, it is going to be all Indian Breads starting with B. Initially I had plans of making only Pooris, the side effect of still working on AtoZ Indian Pooris. I couldn't manage for all days.
Planning Regional Indian Flatbread Thali
So starting today, each day will showcase one specialty Indian Bread from different Northern parts of India with side dishes and other accompaniments to make it a complete Thali. As we had this theme planned for April, I ended up making all of these during March. I didn't have much time on hand and there were days when I made 3 or 4 Flatbread as well.
It means the final picture was not really thought through and I didn't spend much time clicking them. I managed to make more than one subzi however, there were some flatbread I had to repeat the side dish. All the thalis excepting one or two were either made for brunch or dinner. So everything is accompanied with some condiments and sweets. We totally enjoyed all of it.
However, as it always happens with me, I can't make any dish ahead and have to struggle with the whole lot of dishes at the same time. My family ends up complaining there are too many dishes for them to enjoy one dish in peace.
Coming back to the thali featured today, I have gone to Banaras to explore their famous kachori made with Ajwain and served with Kale Chane aur Kaddu ki Subzi, Ras wale Aloo ki Subzi along with some Tomato and Onion Salad. To make it complete, I have a Sama ke chawal ki kheer. All the recipes are adapted from here.
Today's featured post is Banarasi Kachori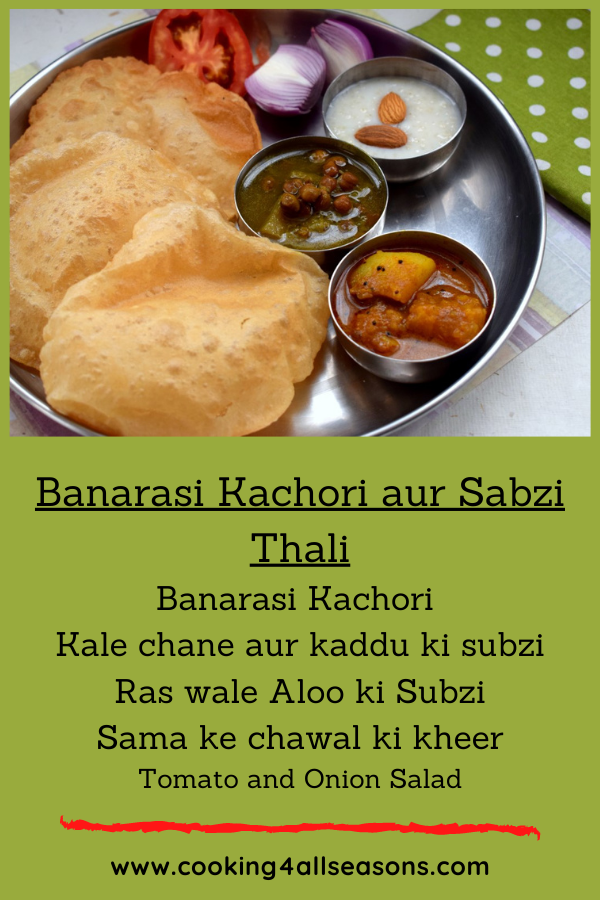 Banarasi Kachori aur Sabzi Thali
Banarasi Kachori
Kale Chane aur Kaddu ki Subzi
Ras wale Aloo ki Subzi
Sama ke chawal ki kheer
Tomato and Onion Salad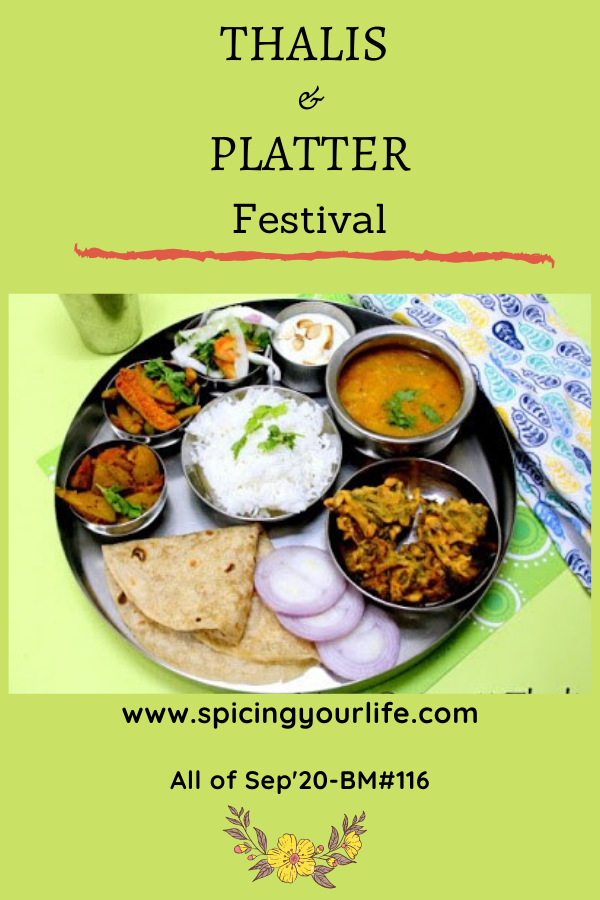 Check out the Blogging Marathon page for the other Blogging Marathoners doing BM#116
You are invited to the Inlinkz link party!