For the final day of BM#57 under Flatbreads, I have a Sindhi special paratha, made from Besan or the Fried Gram Flour. It's called the Besani Koki and is served for breakfast and makes an ideal food for travel as well.
This flatbread is adapted from Vaishali's and made a very delicious Sunday Lunch for us. Because of the way it is made and the ingredients that are gone in, it almost tastes like pakoda. I was delayed in making it and finally thought Sunday Lunch would be the best time for me to make, as I always make vegetarian meals. Vaishali says these are special travel food as these have a good shelf life. The way it is cooked makes it easy to bite into it as such. Though at home curd and pickle is normally served as sides.
What made the Sunday very special was the fact that it was my Twins birthday and I was also meeting some of my BM Buddies. Vaishali has come down to Madras, so we planned to meet over breakfast along with Veena and Nandini. The rest of the Madras BM gang couldn't make it.
The Birthday boys had the whole day dedicated to their fun activities and had a ball. Everybody asked if I was baking the cake. Unfortunately, I am yet to start the tradition of making the birthday cakes that I used to follow some years back. The journey of baking a cake is longer than the actual baking time, is what I have concluded in recent times!
Anyway here's my Instagram presence that finally happened and I have been enjoying my snippets of moments!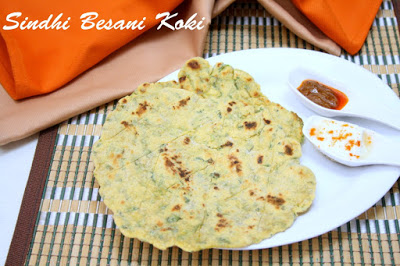 Besani Koki
Ingredients Needed:
Gram Flour / Besan - 1 cup
Oil - 2 tbsp
Onion, finely chopped - 1 small
Green Chilies - 1 medium
Coriander leaves and Mint leaves a handful
Salt to taste
Oil for cooking
Flour for dusting
How to make the Koki
In a bowl, take all the ingredients for the dough and rub in the oil and mix well. Knead to a stiff dough adding water little by little.
Knead to a stiff dough. The dough should not be either too soft or too hard.
Divide the dough into two. Make rounds and flatten the balls.
Roll each into a thick circle. Using a blunt knife make criss cross-checks on the rolled disc. Make sure not to cut through.
Cook like a chapati on a griddle. The flame should be very slow. Cook on both sides with drizzling ghee or oil
Cook till crisp and golden.
Check out the Blogging Marathon page for the other Blogging Marathoners doing this BM
Besani Koki | Sindhi Besan Ki Koki