We are starting the second week of BM#55 with a tour around French Cuisine. I didn't have enough time to read through all the courses, so I was looking out for a specific course of the meal and decided it was best to start with a sandwich. I have quite an affinity towards French, it was my second language for four years, starting with school and continued in college.
However, the only words I seem to remember right now is Bonjour and Mademoiselle. Of Dame, from le dame sans merci, which seem to have struck in memory forever!  Would you believe if I say I rather wanted to write pages and pages on my memories associated with French and finally as it seems to happen off-late with me, I ended up working on this post the night before?
Well, you got to believe it! Life has suddenly become very hectic. Athamma has left for her daughter's place and everything has been even more tightly wrapped to manage! Anyway, with all things apart, I didn't want to delay writing this post and with a moment's free, which has become quite rare, I sat down to cook myself this sandwich and write about it right away!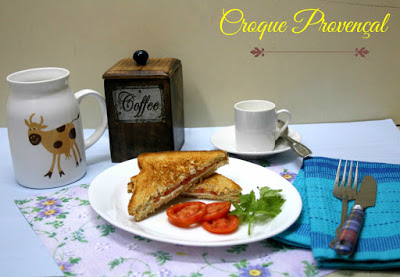 Trust me, the steps are so simple that I felt it was not worth bothering to do step by step. The sandwich for the day is based on Croque-Monsieur. It's a grilled ham and cheese sandwich, topped with bechamel. It was popular in French cafes and bars as a quick snack. The cheese typically used is Gruyère, however, I used processed cheese slices. As with any recipe, there are many variations to this.
I decided to make Croque a provençal or with a tomato. This sandwich is made with toasted bread, cheese, sour cream, and tomato slices. It's grilled till crispy. Additionally one can add eggs as well.
I kept sour cream/mayo, tomatoes, and cheese.
Croque Provençal
Ingredients Needed
Wheat Bread Slices - 2
Tomato Slices - 4 nos
Cheese Slices - 2
Pepper powder to taste
Sour cream / Mayo - 1 tsp
Salt to taste
Butter - 1 tsp
How to make French Grilled Cheese & Tomato Sandwich
Spread the bread mayo/ sour cream. Put a slice of cheese on one piece of bread.
Add tomato slices. Sprinkle with salt, pepper.
Cover tomato slices with another slice of cheese, then cover with another piece of bread.
Heat pan with butter spread butter on top of each side of bread.
Grill until sandwich is brown on both sides and cheese is melted.
Check out the Blogging Marathon page for the other Blogging Marathoners doing this BM
Croque Provençal | How to make French Grilled Cheese & Tomato Sandwich