A typical Goan Breakfast thali will have the Baji Pao, a plate of spicy, stewed vegetable gravy along with a Pao, the spongy bread roll.
They also have the South Indian dishes like the masala dosa for the breakfast time in many Indian Cafes. Other than these, you will always get samosas, batata wada and other small eats during breakfast time too.
Reading about the Goan culture of Breakfast, I was happy reading that breakfast is a wholesome affair. Along with the main dishes, little side plates of snacks are served like the spicy potato and peas samosas, mirchi pakodas, vegetable pakodas, batata wadas with coconut coriander chutneys along with a knob of bread!
If you have a sweet tooth, you can end this all with a scoop of Sheera and make it a grand affair!
Wonder why I am talking about breakfasts? Well we are starting our Week 4 in Thalis and Platters and this week I am going to explore some of the popular breakfast menus from different Indian States. I have tried my best to pick the traditional dishes from different States.
In SYL, it is going to be some lip smacking Street Food from different cities across India. So stay tuned and enjoy!
What do Goan eat for Breakfast?
Coming back to the Goan Breakfast, the bhaji-pao is the most popular breakfast dish. It is a filling, healthy option for sure and goes a long way if you have a hectic day ahead of you. Thick gravies and curries are a major part of the Goan Cuisine and to soak up and enjoy, breads are the best option.
So Poee and Pao are the most staple dishes in Goan Meals. Apart from these buns, Sweets Buns are the other popular dish for breakfast. This is not to be mistaken for the baked buns, rather these are much like the Mangalorean Buns and are deep fried pooris.
I read that buns are the most loved and served dish for breakfast along with bhaji. Finally, you can serve along with spicy Indian-style gravies with vegetables or black-eyed peas/chickpeas or just a wholesome potato sabji.
Apart from the typical breakfast like the baji pao, dishes like egg dishes, mutton xacuti and other tea time snacks are popular.
For the Goan Breakfast Thali, I picked up the Sweet Buns served with the popular patal bhajis. I made a mixed bhajii along with chana masala along with assorted pakodas.
Goan Breakfast Thali
Assorted Pakodas
Tomato Ketchup
Sweet Buns
Goan Mixed Bhaji
Chana Masala
Goan Sheera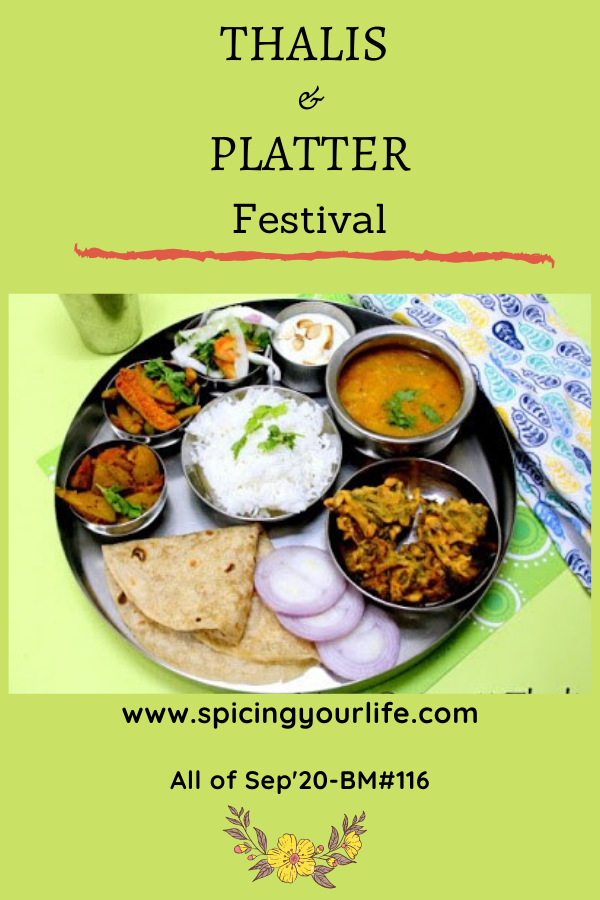 Check out the Blogging Marathon page for the other Blogging Marathoners doing BM#116
You are invited to the Inlinkz link party!