Gujarati Dhebra aur Sabzi Thali features Dhebra the popular gujarati roti made with pearl millet flour. When it is flavoured with fresh methi leaves, it is called Methi Dhebra.
The Dhebras is normally served as an evening snack with some hot Elaichi wali Chai. You can also serve with Chundo the famous Gujju sweet mango pickle.
When I checked with Vaishali on how I can call this thali, she said the Dhebras served for an evening snack, and I can call it Nasta or Nashto as in gujarati. The evening spread will have a combination of Dhebra, along with some Bateta nu shaak, Vanela Ganthia, papite me Cheen, Marcha, God Papdi, and Chai for a perfect tea-time snacking. So serving tea along with it is a must.
However, since I made for dinner with side dishes like Sev Tamatar Ki Sabzi, Gujarati Moong Dal, and Batata Nu Shaak complete with Dry Fruits Shrikhand, I didn't have tea featured. So this can't be called Nasta. And also I never thought of this roti as a snack roti. Anyway, this is a dinner thali for us.
Using Pearl Millet in different ways!
Pearl Millet is widely used in the winter months in the north. However, since in the south we don't have such distinct winter months and I have never really thought about it, I have only associated the Bajra being available during the season. I still remember eating these rotis in our village and later when Amma used to make it.
The way Amma makes this roti is different from the way Athamma makes it. Amma makes it with loads of onions, green chilies, and coriander leaves, serving it with groundnut chutney. Though she used to make it for dinner, there were many occasions when this featured for a snack. These rotis taste absolute delight and I have loved it. Even now remembering those days, makes me feel so sad for the bygone days!
It's been a while since we made those Sadda Roti, though when Athama makes it, she makes it as a regular roti that is dry and stays good for two or three days. Athamma is very fond of Bajra and Jowar Rotis and when she makes, she makes enough to last for a couple of days.
Coming back to the Methi Dhebra, the featured recipe for today, is a bajra roti made with methi and spices to make a delicious snack. I felt this was almost the same as what Amma makes. Yes, I remember we also used to serve it with Groundnut chutney and mango pickle.
Gujarati Dhebra aur Sabzi Thali
Methi Na Debra
Sev Tamatar Ki Sabzi
Gujarati Moong Dal
Batata Nu Shaak
Dry Fruits Shrikhand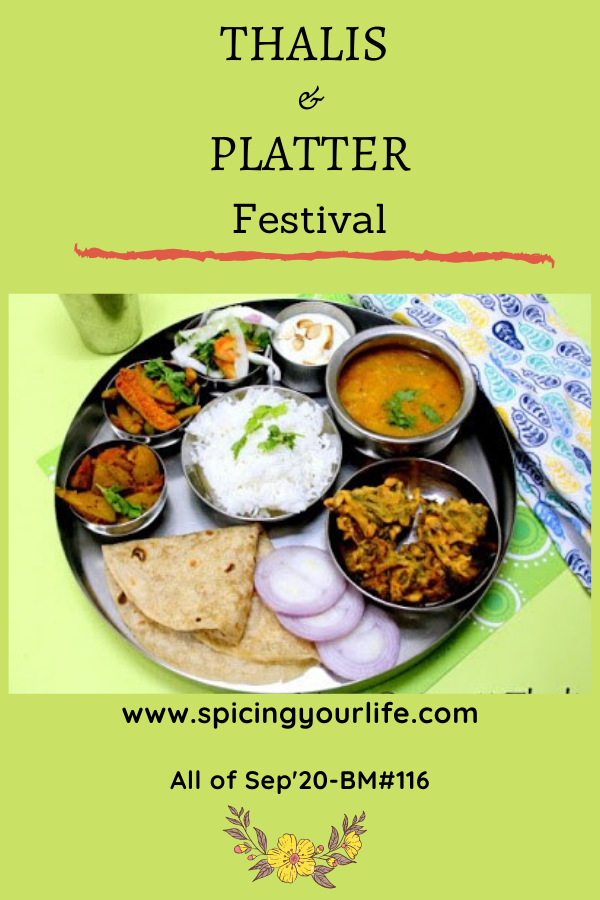 Check out the Blogging Marathon page for the other Blogging Marathoners doing BM#116
You are invited to the Inlinkz link party!