After a full month of blogging non stop all of last month, we took a short break of three days to start yet another Edition. I know it might sound really strange that we end up cooking so many dishes. The reality is, this time around, I tried to be a little smarter and saved up dishes that could meet the requirement for this month too.
After the heavy thalis and other International dishes, I was not in a position to cook more. So taking it easy, I decided I would share some party dishes that will be suitable for my Spice your Life!'s Anniversary party!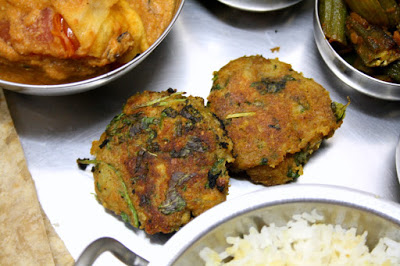 As per the event, the dish should be party special and kid approved as well. When you think of a party, you naturally end up planning all rich and creamy dishes, especially for kids who might also like the different colors that adorn the table.

While making the Awadhi Thali, I was most unprepared and almost gave up not making these Kababs. However looking at all the dishes that I made, it felt like a criminal offense if I do not include either a fried snack or a cutlet in the Menu. My entire Awadhi Thali was inspired by Vaishali and I had spent quite a time, checking out the different new dishes I could include for this Menu and this Kabab was on the list.
My Hara Bhara Kabab may not look at hara as it should. The result was, I didn't see that the spinach I had in the fridge had almost wilted and I didn't use the amount that needs to be used. Also, I didn't have time to make a puree of the green ingredients. I simply blended everything and made quick Tikkis. I have promised myself a better Hara Bhara Kabab next time. The taste, however, was no less delicious and it was in fact sold like hot cake.

I shallow fried some and the rest pan fried. Both tasted great. If these have to be deep fried, you will have to bread it well before deep frying for that crunchy effect. Vaishali's Kababs were done on Seekh rods, I ended up making as tikkis for want of time!

Hara Bhara Kebab
Blanched Spinach - 1/2 cup
Coriander leaves - 1/2 cup
Boiled Mixed Vegetables - 1/2 cup (Peas, Carrot, gobi)
Boiled Potato - 1 medium
Boiled Raw Banana - 1/2 cup
Grated Paneer - 1/2 cup
Ginger garlic paste - 1 tbsp
Green Chilly paste - 1 tsp
Red chili powder - 1 tsp
Coriander powder - 1/2 tsp
Fried Gram powder - 2 tbsp
Kasoori Methi - 1 tsp
Chaat masala - 1 tsp
Amchoor powder a pinch
Garam masala 1/2 tsp
Salt to taste
How to make the Hara Bhara Kebab
Chop the blanched spinach very finely. Squeeze excess water. finely chop the coriander leaves and mix well.
MW Potato for 5 mins, mash well. Take the mashed potato in a bowl along with the greens and mashed vegetables. Mix everything well.
Now add the grated paneer, mashed boiled raw banana. Add the spice powders and combine everything well together.
You can proceed to make the cutlets in your preferred cooking mode. I pan-fried some and the rest shallow fried.
Serve with mint chutney and tandoori salad.

Hara Bhara Kebab | Vegetable Spinach Cutlets
Other Cutlet recipes you can try:
Raw Banana Cutlet
Moong Potato Cutlet
Noodle Cutlets
Greek Chickpea Fritters
Carrot Capsicum Tikkis