Today's lunch box features my Athamma's cooking. She is an enterprising lady who can quickly change ingredients based on their availability at hand. The result has always been outstanding. But one disadvantage I found was, we never can predict what she adds to the dish. Also, if I want to recreate the same thing, I may not be able to judge by simply eating it or remember it by asking her. This happened with my lunch box when she packed Chitrannam or Lemon Rice. This was not her usual Chitrannam but tasted very different but very good and the Urllagadda (potato) gojju added spice to the Chitrannam.
I normally don't prepare Chitrannam but prefer eating what Amma or Athamma make and this one sure made me ask for the recipe.This is Chitrannam with a twist.
Today's lunch was
Chitrannam
Urllagadda gojju
Curd Rice
Mangoes

Chitrannam with a twist
Chitrannam is usually prepared in temples as prasadam and also for traveling as this is one of those dishes which stays on travel. Chitrannam, this time, had tamarind, garlic and coconut as Athamma couldn't get enough lemon!
Serves: 2
Preparation Time: 15 min (includes cooking time for rice)
Cooking Time: 5 mins
Cuisine : Andhra
Ingredients needed:
Rice - 100 gms
Lemon - 1 half
Tamarind - 1 tsp
Turmeric a pinch
Oil- 1 tbsp
Salt to taste
For the paste:
Fresh Coconut - 1 tbsp
Garlic - 4 pods
Green Chillies - 4
For Seasoning
Bengal Gram - 1 tbsp
Mustard Seeds - 1/2 tsp
Urad Dal - 1/2 tsp
Ground Nuts - Hand full
Cashew Nuts - 5 - 10
Green Chillies - 1 slit
Curry Leaves a few
Method to prepare:
Soak rice for 10 mins and pressure cook it Once it's done, transfer to a bowl and let it cool. The grains should be separate.
Meanwhile, take coconut, chilies, garlic and run it in a mixer to get a coarse paste.
Take juice of half a lemon and pulp from tamarind. Keep it aside.
Heat oil, add all seasoning items, saute for 2 mins, then add the ground paste and fry till it changes to  light brown in colour. Add the lemon juice and tamarind pulp and Turmeric. Add salt and cook till the raw smell goes away.
Finally, add the rice to the pan and mix well. Adjust the sourness according to your taste.
Urlagadda Gojju (Potato with medium gravy)
Potato is so very liked and often prepared in our cuisine. This is reflected by the fact that this has 3 different names to be called by. Bangaladumpa or Urlagadda or alu is the easiest and frequently prepared Vegetable.
Since Chitrannam is quite dry, we prefer to make some gravy along with it. Yet the side dish is never running gravy but rather Veggies with medium liquid.
Potato gravy is an all-time ultimate combo with rice varieties like Chitrannam,
Pulihora
and other varieties.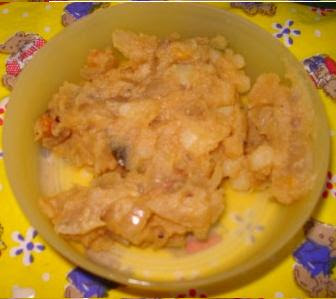 To make this we need
Ingredients Needed
Potatoes - 250 gms
Green Chillies - 3
Onions - 1 big
Curry leaves
Mustard Seeds
Salt to taste
Oil for cooking
Water - 1 cup
Method to prepare:
Boil and peel potato. Cut into pieces, keep it aside
Chop Onions, slit chillies.
Heat oil in a kadai, add seasoning and then Onions, Chillies. Fry till they are golden in colour.
Then add boiled potatoes, salt. Sauté well and add water. Bring to boil.
Curd Rice and Mangoes
Unlike the other variety, this time, I just took the Mangoes along with the curd rice. This also tastes great. We just eat mangoes when we have curd rice. Great way to end the lunch.