When I used to eat non veg, it used to be fish that I liked most and was only eating that. Surprisingly though I have never tasted Meen Kuzhambu or the famous Fish Curry. Reading back on my post that I did six years ago, tells me that I have exactly said the same thing about how I haven't tasted this.
The only difference being that when I posted the original Meen Kuzhambu I hadn't prepared it and said I will have to prepare it sometime. Now nearly six years later, I have finally got around making it. I made this first time couple of weeks back and today again. In fact Hubby dear saw the picture and said it badly needs an updated one, plus step by step. So here it is finally the Meen Kuzhambu.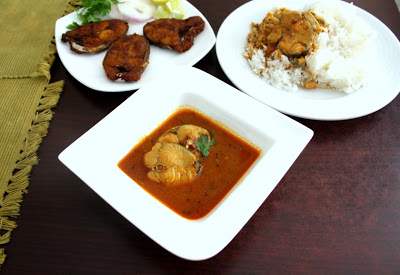 When I think of Meen Kuzhambu, so many things come to mind. Our trip to Alleppey, where we were escorted by
Dad's staff, who happened to be Keralites and so very fond of Meen Curry. They took us to a star hotel and they ordered Meen curry for their lunch. I heard them saying that they had that the previous day and will have it again. That was their liking to Meen Curry. They had even showed us the Kodampuli, plants and how these are harvested. Kodampuli is mostly used in their Meen Kolambu.
Another incident that comes to mind is my colleague from Tirunelveli who said her mom makes 6 varieties of Fish curry. I decided I must talk to her mom sometime.
Anyway coming to the dish, it is same as what I had posted six years ago, I am sharing it again with new pictures and step by step for easy understanding.
Meen Kuzhambu
Ingredients Needed
For gravy
King Fish or Sheela - 500 gms
Sambar Onions - 150 gms
Regular Onions - 50 gms
Tomatoes - 150 gms
Tamarind - lemon sized (20 gms)
Chilli powder - 2 tsp
Coriander powder - 3 tsp
Turmeric powder - 1/4 tsp
For seasoning:
Mustard Seeds - 1/4 tsp
Cumin Seeds - 1/4 tsp
Fenugreek - 1/4 tsp
Oil - 150 gms
Garlic pods - 6-7
Salt to taste
Green chillie - 2
Coriander leaves few
Method to prepare:
Soak tamarind in water and extract pulp. Clean and cut the fish to desired size.
Chop onions, garlic and tomatoes finely. Heat Oil in a Kadai. Add mustard, Cumin, Fenugreek, once it splutters, add chopped onions, curry leaves & garlic. Sauté well, fry till its golden in colour.
Add tomatoes, Chilli powder, Coriander powder, Turmeric and salt. Cook on high for few mins. Then add tamarind pulp and required water. Cook on high for 5 mins. Simmer it and let it cook till the gravy becomes thick
Fish can be added once the gravy thickens and oil has come out. Cook on high flame for 5 mins after adding fish. Then simmer it for 5 mins. Add chopped green chillis and finely chopped coriander leaves at this stage. Once done, remove it from flame.
10 mins is enough to cook fish, else it will get shredded. Also the taste of the gravy changes based on the type of fish used.
I am doing this as part of the weekend cooking I do with Vaishali and Champa, check them out. I was so trying for a vegetarian dish, but couldn't manage.
Meen Kuzhambu | Fish Curry ~ Tamil Nadu Special