If there was an award for the recipe that stayed in drafts for the longest, I am sure this recipe will win hands down! This was taken almost a couple of years ago. Now I don't even know which year it was. Suffice to say that it was taken during our yearly trip to Hubby dear's native town. It was during Sankranti time when my nephew celebrates his birthday. They decided to request their Muslim family friend, who made mutton biryani for them on a previous occasion.
They were raving on the taste and wanted to make it during hubby dear's visit. Since their friend would be comfortable cooking in her own kitchen, we said we would go to their home. Once the breakfast was done, my SIL and I landed at their place. It was really such a wonderful experience watching somebody cook. All I had to do was click pictures. I told that I would be sharing the recipe on the blog and she was so happy about it and wanted to share the recipe. She made it look so effortless and simple.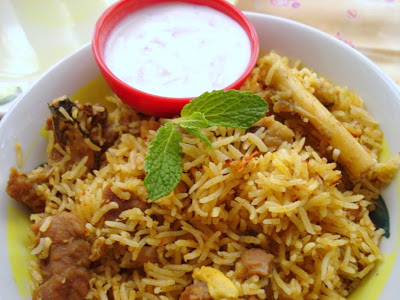 During the entire process we were chatting about everything food and what kids eat and don't eat. She also shared a couple of her other favorite dishes. Well as you guessed as this took such a long time with the pictures, those recipes might be longer to make their presence. Anyway, we finally managed to click all the pictures and came back home. Everybody enjoyed and hubby dear said it was indeed too good. If you must know she didn't add butter or ghee. Nor the methi leaves were noticed. I must confess I haven't prepared myself. But the verdict of the entire 20 who eat, was good enough.
Step by Step Picture Recipe


The paste made with Garlic, Ginger, Coriander leaves and 1/4th of cloves.


Before making the gravy, in the pan, brown the onions till crisp


Remove half for the later process


Add the ground masala paste


Mix well

Add salt, chopped tomatoes.


Chopped green chilies, red chili powder is added next


Along with the whole cloves, cardamon, Cinnamon.


Now add the mutton pieces


Continue cooking


When moisture starts coming out, cover with the lid and pressure cook for 3 -4 whistles or till the mutton is cooked well.

Wait for the pressure to fall down, remove the lid


Now add the Fenugreek leaves


Washed Mint leaves for the Dum


Cook Rice in a large pot of water and drain the water. Let the rice be just 85% done and have it covered with the lid.


Keep one layer of rice and remove the rest of the rice.


This is after the gravy is mixed with the methi leaves.


Top with a mutton layer


Add mint leaves


Another rice layer


Now browned onions and mutton pieces


another rice layer


Continue with mint leaves


And onions and gravy


Until you are done with all the layers


Finally, sprinkle with orange food colour and mix in a random style
Mutton Biryani
Rice - 2 kgs
Mutton - 2 kgs
Green chilies - 50 gms
Onions - 250 gms (Half for the gravy, half for dum)
Cloves - 50 gms
Cinnamon - 50 gms
Cardamon - 50 gms
Salt to taste
Oil - 500 ml
Tomato - 250 - 300 gms (sour variety)
Chili powder - 2 tsp
Fenugreek Leaves / Methi Leaves - 1 big bunch
For the paste:
Coriander leaves - 1 Big Bunch
Ginger Garlic - 2 tbsp
During the Dum process
Mint leaves - 1 Big bunch
Brown Onions
Red colour for sprinkling.
How to make the Biryani
For the Rice
Wash and soak the rice for 30 mins. In a big vessel, take twice the amount of rice and bring to boil. When the water starts boiling, add the rice and cover with the lid. Add salt and continue cooking. When it's almost 85% done, cover with the lid and drain the water. Keep it covered.
For the Paste
Make a paste of the ginger, garlic, coriander, 1/4 of cloves to a fine paste.
For the Mutton:
Wash and cut mutton into equal pieces. Drain on a colander.
Heat a pressure cooker, add all the oil. Add onion julienne, continue till the onions start browning. Remove half of the onions to a bowl.
To the onions, add the ginger garlic coriander paste. Stir well, then add salt, chopped tomatoes.
Then add cloves, cinnamon, cardamon. Combine and add red chili powder, then chopped green chilies.
Now add the drained mutton pieces. Cover and pressure for 4 -5 whistles.
Wait till the pressure is off. Remove the lid, add chopped methi leaves mix well.
For making the Dum Biryani
Remove the rice to another bowl, leaving one layer below. Else if you have another thick bottom pan that fits, grease the bottom and cover with a layer of rice. Over that add the mutton pieces along with gravy.
Now put one layer of mint leaves. Cover with a thin layer of rice.
Now add one layer of brown onions, another layer of mutton pieces.
Continue alternating with mint leaves, onions, and mutton gravy until you are done. Make sure the final layer is rice. Dissolve the red food colour and sprinkle on the top.
Cover with a tight fitting lid and on a slow flame and cook for 30 mins. If you have hot coal, you can put them on the top lid.
Mutton Biryani - Andhra Muslim Style ~ Pictorial