Odia Breakfast Thali has the famous combination of Dahibara Ghuguni Aludum from Cuttack, Odisha. It is a perfect marriage of two delicacies, that happens just before being served for consumption. This combo is Odisha's cult favorite.
If you must know there is a day dedicated to celebrate this festival, that I read in justvish and happens on the 1st of March. There are no details about when and how this chaat originated, though it is said to belong to the Bidanasi area and is now famous across the globe as a popular chaat from Odisha.
When I was reading through about the popular breakfast dishes, I read that 'Dahibara-Ghuguni-Aludum' is probably the most popular street food in Odisha. Of course, there is the ubiquitous Gupchup or the Odia style of Pani Puri. There seem to an unbelievable craze over this dish as well. However, since I had already finalized my street food places, I decided to make the Dahi bara for the breakfast theme.
Why does DahiBara AlooDum have such a cult following?
On the streets of Odisha, you will find cycle wallahs with their big pots of dahibara and smaller pots of ghuguni and alu dum sold all through the day. It is most commonly eaten for breakfast as the dish provides a complete meal. It has carbs from potatoes, protein from vadas and the curds is a source of lactobacillus probiotics. Other healthy benefits come from the usage of spices in the mix.
Lastly, the Dahi paani of the Dahibara is a source of hydration for the people of Odisha during the hot summer months. On the whole, the people of Odisha seem to have an insatiable appetite for this delicacy. I read that they can have this for 3 meals a day. The cult following is because of this attachment.
I am sharing only the Dahibara as I felt the other two dishes need a post of their own. I Will update once those are posted. For today, it is the Dahi bara, the Odisha style!
Odia Breakfast Thali
Dahibara
Ghuguni
Alu dum
Sev
Onions and Chilies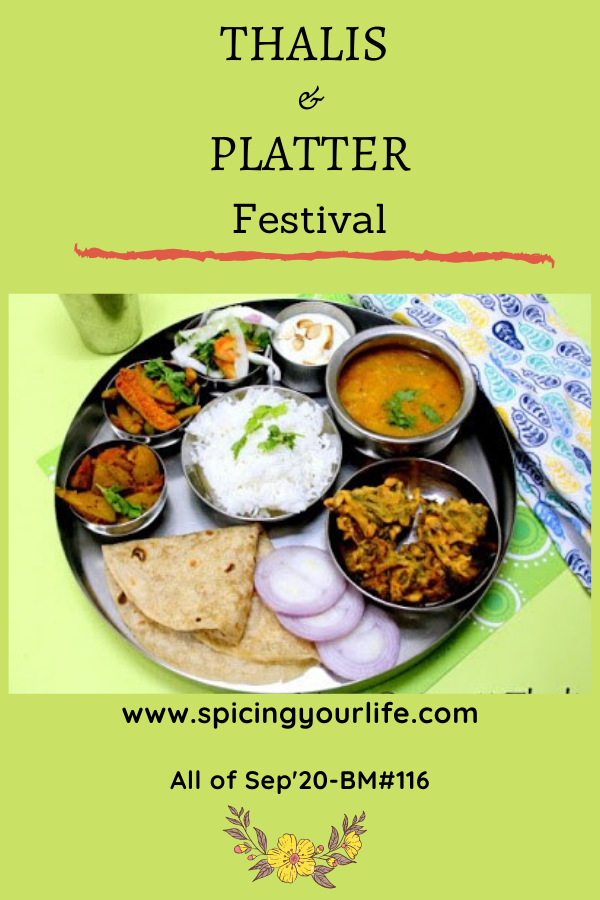 For more party menu ideas, check out the Thalis and Platters that would appeal to Elders, and Thalis & Platters that Kids would love!

You are invited to the Inlinkz link party!