I have been waiting to make some non -veg biryani for a long time. And I got the opportunity this weekend when hubby dear wanted me to make him Chicken Biryani. I asked Amma for a recipe and she said there are so many varieties, so which one I want. I said I want one that is simple yet tasty.
When I got down preparing it, I was surprised as how fast it got over. I was able to manage all the items on time. But for once I was able to make my husband say it was very spicy. They said they would eat it for dinner again by which time it would've toned down. This is what I prepare for lunch with Chicken - Briyani, Gravy and Roast.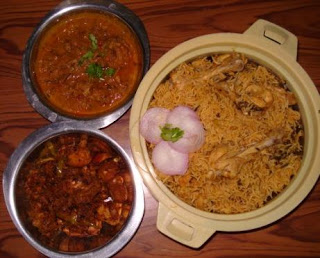 Chicken Briyani
Serves: 4
Preparation Time: 20 mins
Cooking Time : 15 mins
Cuisine : Andhra
Ingredients Needed:
For Marinade:
Chicken - 250 gms
Curd - 1/2 cup
Chilli powder - 1 tsp
Coriander powder - 1 tsp
Turmeric powder a pinch
Ginger Garlic paste - 1 tsp
Mint Leaves - 1/2 cup
Coriander leaves - 1/2 cup
For Rice
Basmati Rice - 1 1/2 cup (
Onions - 2
Green chillies - 2
Chilli powder - 1 tsp
Coriander powder - 1 tsp
Ginger Garlic paste - 1 tsp
Cinnamon - 2"
Bay leaf - 1
Cloves - 3
Cardamom - 2
Salt to taste
Oil - 2 tbsp
Butter - 1 tbsp

Method to prepare:
Clean and soak Basmati for 10 to 15 mins.
Clean and chop chicken to required size. Mix curd, chilli pw, coriander turmeric, Mint and coriander leaves to the chicken. Let it marinate for 10 to 15 mins.
Meanwhile chop Onions as julienne, chillies. Heat oil and butter. Add all the whole spices. Then sauté in Onions till they are brown in colour, add ginger garlic paste. Fry well.
Then add the chicken marinade. Cook on high flame for 5 mins and simmer till the oil comes out.
Add the rice, salt, 3 cups of water and pressure cook for 2 whistle.
Since this is quite spicy, Onion Raita would be nice but I prepare Gravy which turned out to be quite heavy.
Adjust the spiciness by reducing the chilli powder and green chillies.
Will post the chicken Roast tomorrow.
Enjoy the briyani for now and let me know your feedback!
Recipe