Vegetable Manchurian was a great combo with Egg Fried Rice, which we had to prepare nearly a couple of months before. We normally make Cauliflower Manchurian as a side dish for Fried Rice. So Amma wanted to make something different and hence came up with this wonderful recipe. This dish ends up being a cleanup dish as you can add all your veggies that you might have leftovers and tastes great.
Things have been pretty steady and hectic the past couple of days. I just announced the Kid's Delight on Indian Street Food. I was hoping I could prepare some pending Street foods that I had planned so many months before. Chocolate Roundup will be up soon. Meanwhile, I had some more bloggers being interested in the Blogging Marathon that it makes me think that maybe I should plan to do this again.
When I got back thinking I should post something within this week, this draft was literally calling me!..:) Imagine sitting idle in the drafts for so long without any attention. The vegetable Manchurians tasted great as such, I saved some for eating as a starter without adding to the sauce. The sauce was made the same way we do for the Cauliflower Manchurian.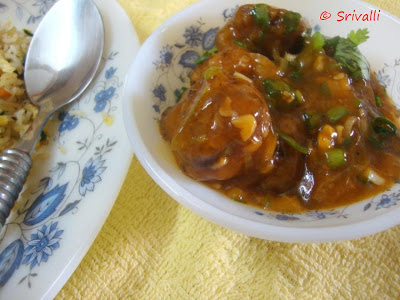 Step by Step to make Vegetable Manchurian
In a nonstick pan, saute the onions, ginger, garlic, and chili paste.
Then add the tomato sauce
Measure out soya sauce
Add the soya sauce to the pan
Followed by the corn flour mix
Add more water as required.
Fried Vegetable Manchurians
Add these balls to the sauce.
Finally garnish with spring onion greens
Recipe
Vegetable Manchurian
Ingredients
To make the manchurian
1

cup

Mixed Vegetable

Cabbage, Beans, Carrot, Potato

2

tsp

All purpose flour

/ Maida

1

tbsp

Corn flour

3

nos

Green Chillies

1/2

tsp

Pepper Powder

2

inch

Ginger

4

cloves

Garlic

Salt to taste

Cooking Oil

for Deep frying
To make the sauce
1.5

tbsp

Soya sauce

1.5

tbsp

Tomato Sauce

1

tbsp

Corn flour

4

cloves

Garlic

Salt to taste

1

bunch

Spring Onions
Instructions
For Manchurian Balls
Clean and cut the vegetables. Grind all the vegetables coarsely, and not as a complete paste.

Grind the green chillies, ginger, garlic into a coarse paste. Add half of this paste for the manchurian paste. Take the rest of the ingredients required to make the manchurian in a bowl, add the green chilli paste, ground vegetables. Add salt and mix well. The batter should not be loose or runny, so just sprinkle water as required to make a thick batter. Divide the batter into small balls.

Heat oil in a pan, Once the oil is hot, reduce to medium flame, deep fry the manchurian balls. Cook on both sides and drain to a kitchen towel.
For the sauce
Heat a nonstick pan with a tsp oil, Add the finely chopped onions from the spring onions, then add finely chopped garlic. Sauté till the onion bulbs turn color. Keep the green of the spring onions for latter use.

Next add the remaining ginger garlic and chilli paste. Add soya sauce. Followed by tomato sauce.

In a small bowl mix the corn flour with little water to form a smooth paste. Once the sauce simmering is cooked, add the corn flour paste. Cook on high flame so that the sauce thickens. Just make sure it doesn't become too thick. Add water as required and bring to boil.

Add fried vegetable balls to the sauce, along the green onions stalks, simmer for a minute.

If you don't want the manchurian to be soggy, add just before serving.
Serve this with Egg Fried Rice
Other Recipes
Vegetable Fried Rice & Cauliflower Manchurian
Chicken Fried Rice