Its that time of the year where a group of blogging friends join together to a
Bake-a-thon
. The whole of December will be baked goodies. And its also something I so look forward.Though I had everything ready, natural calamities have a way of disturbing one so much that regular things cease to hold your attention. So with Madras Rains lashing out so much, I completely forgot that I need to start the Bake-a-thon. Lucky my friends did the honours and I am so glad to catch up with their bakes.
As always, I decided to do a theme for this bakeathon too. It had been changing from muffins to cakes to savories. Finally settling down to Brownies. So this whole of December I will try to dish out brownies. I was supposed to be completely prepared and ready. Unfortunately I just have this ready and I also realized baking so many brownies at one go is so hard on the consumer end.
Of course, with kids being at home for nearly a month, I was rushed to think of various snacks that I had to feed them. They are eternally hungry and just won't want anything. So I knew these brownies would have helped the situation. However as I said I wasn't prepared. Still the two brownies that I made have been super duper hit and that has surely encouraged me to go forward with this theme.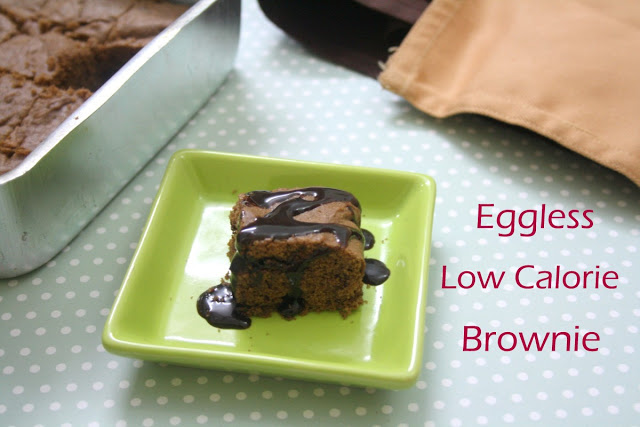 This was the second recipe I baked. The first one was very rich and high calorie. So thinking so much over it, I decided I should experiment with a measurement that could yield me low cal and yet delicious. Kids will anyway have a drizzle of their favorite chocolate sauce over anything and everything.
Hubby dear especially loved this, saying this tastes just like the bakery one. So this is surely gets repeated again.
I was in a rush and baked it in the morning. I asked Konda to click the main pictures with ideas on how I want it to be captured. I was glad she was able to do a great job with it.
Eggless Low Calorie Brownie
Bake at 185 C for 25 mins
Ingredients Needed:
All purpose flour / Maida - 1 & 1/4 cups
Hershey's Cocoa powder - 1/4 cup
Cooking Chocolate. melted -  1/4 cup
Baking Powder - 3/4 tsp
Caster Sugar - 3/4 cup (I removed two tsp after measuring)
Unsalted Butter, melted - 1/4 cup
Curds / Yogurt - 1/4 cup
Milk  - 1/4 cup
Vanilla essence few drops
How to bake the Eggless Low Calorie Brownie
Melt the cooking chocolate in a MW safe bowl for a min in spurts of 30 secs.
Melt butter and add to the chocolate.
Next add the flour, sugar, cocoa powder, and mix well.
Then add the beaten curds, mix well and finally add the baking powder and milk along with vanilla essence.
Beat with a beater for couple of times, till the batter is well blended.
Grease a 8x8 Baking tray and line with parchment paper. Transfer the batter and spread it even.
Pre heat the oven at 200 C
Then bake for 25 mins at 185 C.
Check if done by inserting a sharp knife at the centre, when it comes out clean, let it cool down.
Cool and cut into squares.

This is part of the Bake-a-thon 2015
Eggless Low Calorie Brownie