Tea Cakes are my all time favourite. Hearing this you must have assumed that I must have had this many times! Well quite opposite to it, I have never actually tasted those tea cakes you get in the bakery as its made with Eggs.
So if I have to eat a tea cake, then I got to bake it myself. There is only so many recipes I can have with Chocolate right, even though with the list of bookmarked chocolate recipes run a mile. Once in a while, I crave for something else and that's when I decided I will do Tea Cakes.
As per my definition, Tea Cakes are those mildly sweet, spongy, a wee bit hard, and without any frosting. Its suits best as a snack to pack and good to serve as evening snack or pack in your kid's snack box. So it's more or less the same as a sponge cake.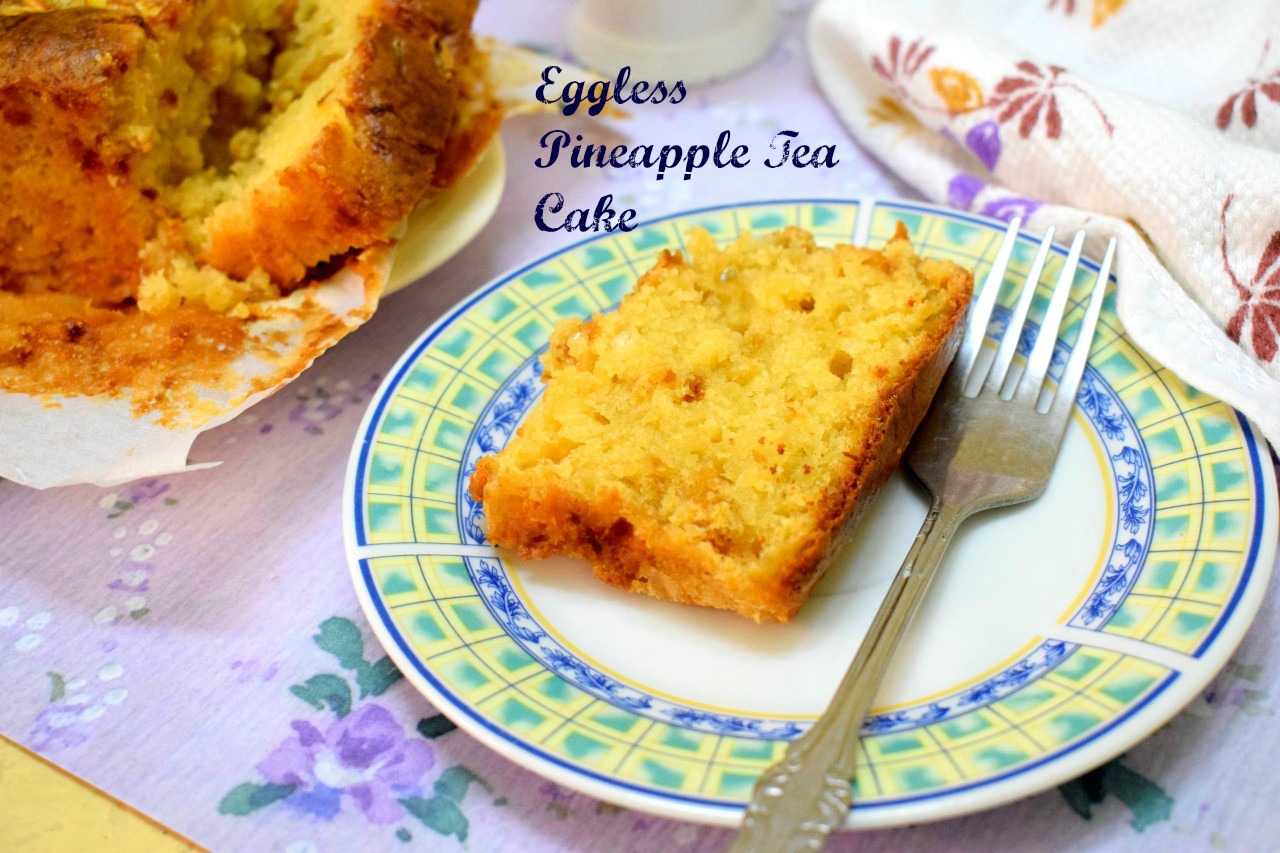 However, when it comes to an Eggless version, I hardly find much difference from the way I bake a Tea Cake or a Sponge Cake. Still, because I fancy that name, I will call it Tea Time Cake.
If you are wondering why I am talking so much about baking, it's that time of the year where a group of blogging friends join together to a Bake-a-thon. The whole of December will be baked goodies. And it's also something I so look forward.
As with every year, I picked up a theme for this edition as well. And you guessed it right, it's going to be Tea Time Cakes.
First in the series is going to an Eggless Pineapple Tea Cake. I enjoyed the maximum digging into this cake and loved it so much!
When I had made Pineapple Upside down Cake couple of editions back, I have been thinking I must make a Tea Cake as well. It all turned out such a coincidence that I had Fresh Pineapple, Pineapple Jam and Essence as well on hand.
I baked this cake pretty much similar to my Apple Tea Cake. While this is the only cake that's ready, I am hoping to bake more fresh fruit tea cakes.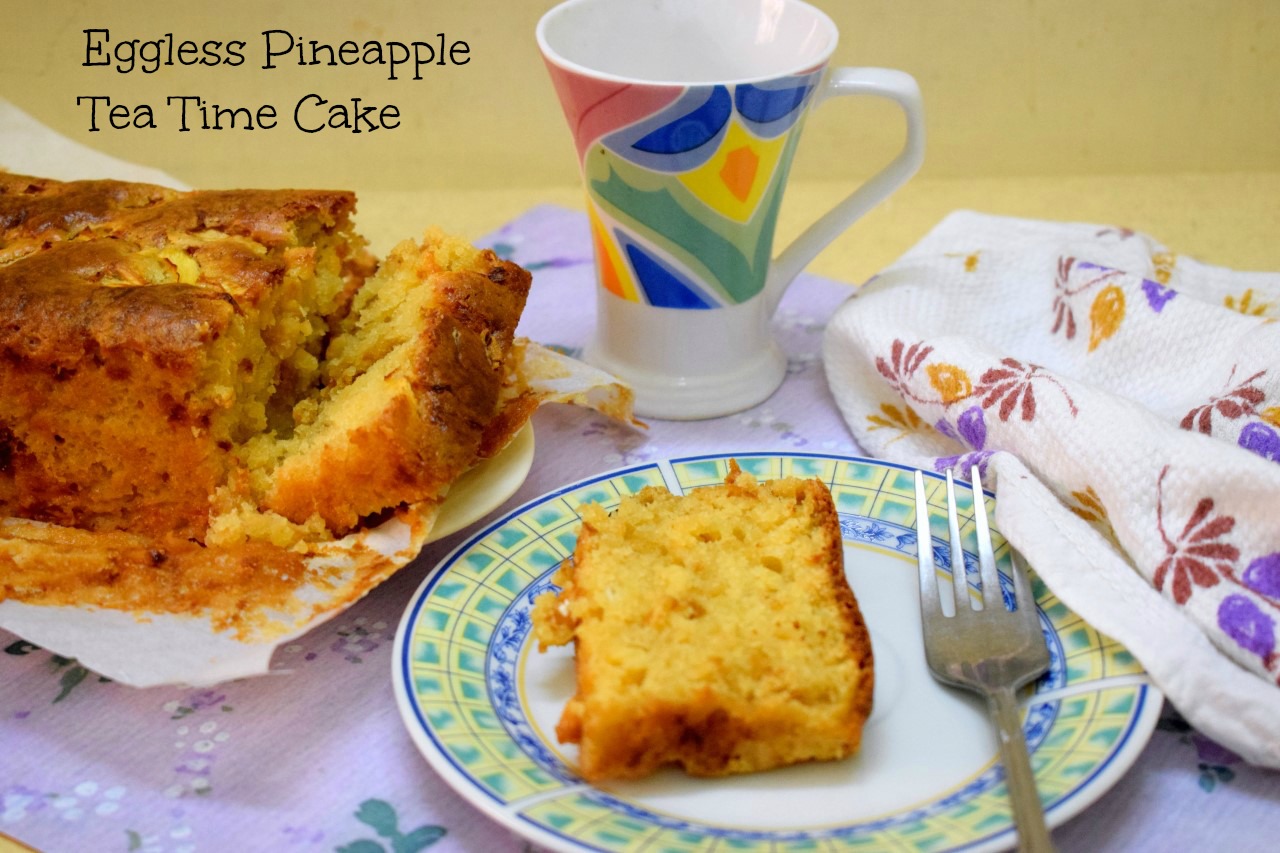 Step by Step pictures for making Pineapple Tea Cake
Eggless Pineapple Tea Cake
Ingredients
1

cup

All Purpose Flour

1/2

cup

Pineapple

(puree blended using 1 tbsp milk)

3/4

cup

Condensed Milk

2

tsp

Pineapple Jam

1/2

tsp

Baking Soda

1/4

tsp

Baking Soda

A

Pinch

Baking Powder

1/4

tsp

Pineapple Essence

Pineapple

(Handful of 1" size chopped pieces)
Instructions
How to make Eggless Pineapple Tea Cake
Pulse the pineapple pieces along with pineapple jam.

Add a tbsp milk if required to get a smooth paste.

In a bowl, take the flour, add condensed milk. Next, add the pineapple puree. Blend well with a spatula.

Add pineapple essence. Finally, add the baking soda and a pinch of baking powder.

Prepare a loaf tin, lined with parchment paper. Pour the cake batter into it. Pat well.

Pre-heat the oven at 170 C. Then, bake the cake for 40 mins.

Cover the last 5 mins with foil and make it for another 5 mins.

Let it sit for a while before slicing and serving.
Notes
I initially added 1 cup pineapple puree. Reduced it as the cake was quite moist and not hard as I was aiming to get the texture.
This cake doesn't have butter or oil.
The cake is also a bit on the sweeter side, so you can reduce the condensed milk to use just a little more than 1/2 can.
I used 1/2 + 1/4 tsp of Baking Soda. Since I can't specify that as such, I have entered it twice in the ingredient list.
While I served this for the evening snack, Konda said she preferred her slice with a drizzle of Hershey's chocolate syrup.
[inlinkz_linkup id=680533 mode=1]