The other combo dish under Combo Dishes was this Chocolate Brownie, I had to make it eggless of course. So the final day under Combo Dishes is Chocolate Brownie with Vanilla Ice Cream with hot chocolate sauce!
I have been making ice cream for many years now. Right from the experience of Pal Ice, or the mango Ice cream, or chocolate ice creams, or the many versions of kulfis, making Ice cream has always been a passionate thing with me, well other than making pizzas that are! I had even made a Vanilla Ice Cream with ready-made powder.
So I was surprised to see that I didn't have the simpler version of Vanilla Ice cream and so I decided to make it with CMC, which helps in setting the Ice cream and the cream ensures creamy texture. On the whole, it was such a delicious treat for us.
After enjoying this delicious dessert at home, I wonder I would want to try this again in the restaurant. And yes, do check out the Potato Pizzette Bites with Quick Tomato Sauce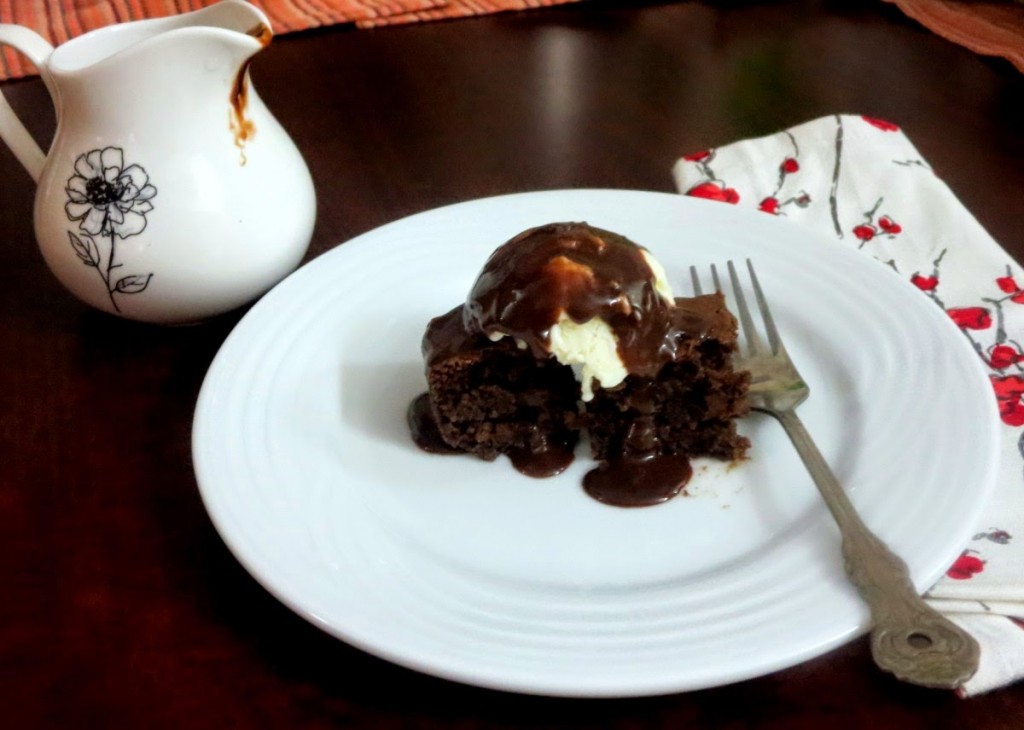 Vanilla Ice Cream on Chocolate Brownie with Hot chocolate Sauce
Vanilla Ice Cream
Ingredients Needed:Condensed Milk - 3/4 tin of 400 gms
Milk - 4 cups (boil for over 30 mins, to reduce to 3 cups)
Milk Powder - 1 cup
Sugar - 3/4 cup
Cream - 200 gms
CMC (Carboxy methyl cellulose) - 1 tsp
Corn Flour - 1 tsp
Vanilla Essence - 10 ml
How to make Vanilla Ice Cream
Boil the milk and let it simmer till it thickens. This takes about 30 mins to reduce to 3 cups. In a bowl, take the milk powder, slowly add some milk to get a lump with less liquid. Then add this milk to the boiling pan. Add sugar to the milk, check for sweetness.
Mix the cornflour with water and pour into the milk after switching off. Blend well.
Meanwhile, mix the CMC in a bowl and then add to the milk.
Continue to cook till the milk is quite thick and on cooling, it becomes a thick sauce.
In a bowl that you can use a hand blender, add the condensed milk. At first, speed runs it a couple of times. Finally, add the whipped cream, fold it into the base
Transfer to an aluminum bowl, so that it sets faster. After 1 hour of setting, remove and whip it again using the blender. Continue doing this 3 -4 times about every 1 hour or so. Finally, put it back to set for over 4 -5 hours depending on your freezer.
Once it is set, scoop out and place on the brownie and pour hot Chocolate Sauce on top!
Notes:
Very important to remember not to boil the cornflour mix for no longer than 1 -2 mins. If you cook longer than this, the mix will turn very thick and into a pudding and not like ice cream. Ensure to cool down before adding condensed milk and cream.
Freezing in either Tupperware or aluminum vessel will help in setting the ice cream faster. I normally whip again after 1 hour of setting. However this time, I simply froze it overnight and then for about 2 - 4 hrs. It became very hard and I had to keep it refrigerated to become soft enough to scoop.
Still, the texture is more creamy and not with crystals.
Chocolate Sauce
Ingredients Needed:
Milk - 2 cups
Dark Cooking Chocolate - 50 gms
Milk Chocolate - 50 gms
Bring the milk to boil, add chopped chocolates and blend well. When the chocolate is completely melted, depending on the thickness you want, you can remove it from cooking.
Always ensure the sauce is hot when poured over Ice Cream, has a wonderful taste!
How to make Vanilla Ice Cream ~ Step By Step Pictures