Chicken Pakora seems to be the current hot starter at home, with us having made this about four or five times in the last couple of months. Even in the
recent dinner party
, this ended up being the most attractive dish as the guests didn't realize it was chicken pakora, but rather just the plain onion pakoras. They were really taken in by surprise and made sure they noted down the recipe.
They were also pretty amused seeing me clicking away the pictures, than trying to take the group pictures. The pictures on this post spans over two parties, one with Ceylon Parotta and chicken Gravy. And the other a lunch party where we ended up making the usual Chicken Kura, Dal,
Medu Vada
and Chicken Pakora. I have always been so fixed on thali pictures and end up always trying to assemble them together. This is just a small attempt.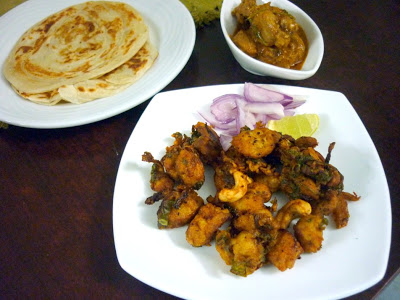 The school is going to close soon for the vacation and we are gearing up with things we ought to do to keep the kids occupied. This weekend we had gone for a school excursion to a theme park and it was fun and tiring at the same time. Without much thought I somehow didn't realize that it might be tough for me to manage all three of them. The moment we landed there, I knew it and somehow the entire day just looked so far off. We managed to have fun, though it was so hot. Boys wanted to play different games than Konda and I found myself going crazy. Somehow we passed. Ended the day with water games, and the kids had a field day.
Step by Step picture Recipe for making Chicken Pakora
Marinate for at least 30 mins – 1 hr max
Add 2 tsp corn flour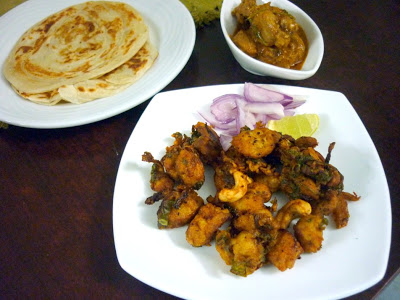 Wash and cut the chicken into small bite size pieces. Let it drain in a colander so that all the water drains off.

Then take the chicken in a bowl, add turmeric, salt, ginger garlic paste, and garam masala. Mix well and marinate for at least 30 mins. It tends to be better if you marinate for more time.

Cut the onions into julienne, chop green chilies into small pieces, have curry leaves and coriander leaves ready.
How to make the Chicken Pakora
Once the chicken is marinated, sieve in the besan into the chicken. Then add the onions, green chilies, curry leaves, coriander leaves, cashew nuts and mix everything well.

Heat oil for deep frying. When the oil is hot, drop the chicken pieces, making sure the chicken is spread nicely in the oil.

Cook on all sides, making sure it's cooked. Drain on a kitchen towel.
Since the chicken is marinated for a while, it doesn't take much time to cook. Check if the pakoras turn to golden and remove. That should be enough to get the chicken cooked.